While it is also true that the "Timesaver" concept has largely been restricted to American prototype modelling, it certainly ranks among the very small number of model railroading milestones which have stood the test of time without the slightest sign of becoming stale - the "Timesaver" continues to inspire modellers to build small layouts and provides as much fun as it did 30 years ago.

Here's the original "Timesaver" layout built by John Allen (together with its duplicate twin, built by Bill Corsa shortly after the original miraculously survived the fire which destroyed so much of Allen's modelling) and seen on working display at the NMRA Convention 2000 in San Jose. It was owned by one of the original Gorre & Daphetid operators, the late Allan Fenton (right).

The original layout was donated to the NMRA Howell Day Museum in Chattanooga TN for display, whilst the copy twin of the original is currently on display at the San Diego Model Railroad Museum.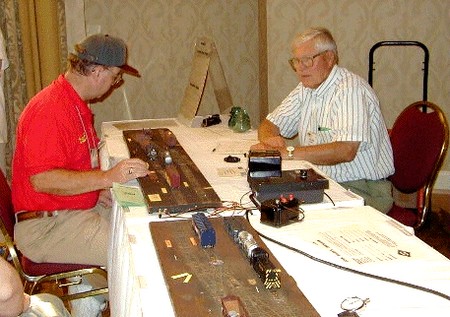 Picture by Franz Reichl, president of the US Prototype Model Railroaders of Austria, and is used with kind permission