WHAT'S IN A NAME
The branch line to Little Bazeley is, of course, completely fictional.
Maybe this is just as well, because if you were to board a train for Little Bazeley, you should be advised that this quaint and sleepy little place is also known as "the town of no return". Not because so many holiday-makers have decided to stay on and make Little Bazeley their home, but rather because some strange disappearances have taken place of late. That is the reason why you will find debonair John Steed and dashing Mrs. Emma Peel staying at the local pub - the "Inebriated Gremlin", although the locals call it the "Jolly Gremlin"...
Afficionados of the 1960's cult TV series "The Avengers" will no doubt recognise the name of Little Bazeley as the seaside town that John Steed and Emma Peel visited on their first assignment together, introducing Diana Rigg to the series at the start of the 1965 season in the episode "The Town of no Return". Steed and Emma travel to the place by train (steam hauled, actually), and as this is one of my favourite "Avengers" episodes, choosing the name of Little Bazeley is a somewhat tongue-in-cheek little cameo for those in the know. The only liberty I took is in moving the town from East Anglia to the Sussex coast. And one day, I just might add two appropriate figures to the layout...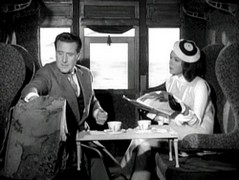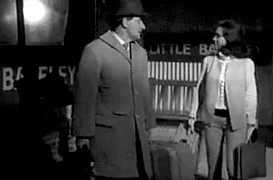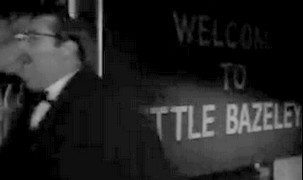 These images from the opening minutes of The Avengers episode "The Town of no Return"
are (c) StudioCanal Images SA, who have released superb boxed sets of the entire series