Maybe one of the most interesting and extraordinary chapters of American railroad history is the story of the Pacific Northwest extension of the Chicago, Milwaukee & St. Paul Railway (later known as Milwaukee RR). The CM&StP had already ventured across the Missouri River in 1885, and the decision to continue further west in 1905 appeared to be financially sound at the time. However, the Puget Sound Extension, a line across the upper Plains states for Seattle, was an ambitious project for a modest Midwestern Granger railroad which wasn't even particularly well-to-do at the time it started building the line in 1906. In the end, the extension proved to be ruinously expensive - while the original plans had called for a total price of $60,000,000, the Milwaukee spent nearly $90,000,000 in the end when the line was completed in 1911, stretching 1'779 miles from St. Paul to Seattle. It was therefore hardly surprising that the Milwaukee was hit even more than other railroads by the postwar decline in passenger and freight traffic. By the early 1970's, the situation was critical, the track was badly deteriorated and derailments were frequent. Finally, the operating and cash flow problems became such that the decision was made to save whatever possible of the eastern system and abandon the Pacific Extension - the last eastbound Milwaukee freight train left Tide Flats Yard near Tacoma on March 15th 1980. On February 19th 1985, what little was left of a once sprawling rail network was sold to the Soo Line.
The Milwaukee's Puget Sound classificiation yard was Tide Flats at Tacoma, where transcontinental and local trains were made up. As a particularity, inbound trains were turned on a wye.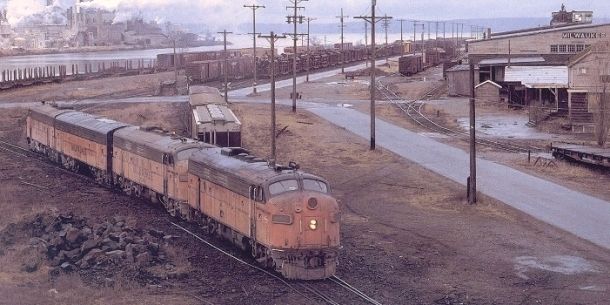 Milwaukee F units working Docks Yard near Tide Flats in 1979 (Dale Sanders)
It may seem to be an odd idea to look for prototype inspiration for a layout based on the Inglenook Sidings trackplan by turning to a transcontinental classification yard - surely the absolute opposite of a simple track arrangement. This is certainly true for the entire yard, but if you start looking at individual locations, some of the bits and pieces that make up the yard actually turn out to be quite simple, as a closer look at the right hand corner of the picture above will reveal.