Prototype inspiration for an INGLENOOK SIDINGS layout
---
ITALY
ITALIAN STATE RAILWAYS (FS)
MONTEVARCHI (AR)
Montevarchi, a market town and regional center situated 35 km South of Florence in the province of Arezzo (AR), has a medium-sized railway station on the FS (Ferrovie dello Stato, Italian State Railway) mainline from Rome to Florence.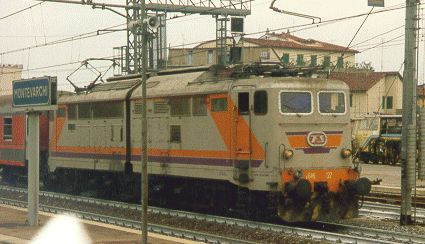 A Florence-Rome Express speeds through Montevarchi (AR), September 1993
A footbridge spanning the five mainline tracks providedsan excellent view of the small yard, which hosts a complete set of permanent way maintenance equipment.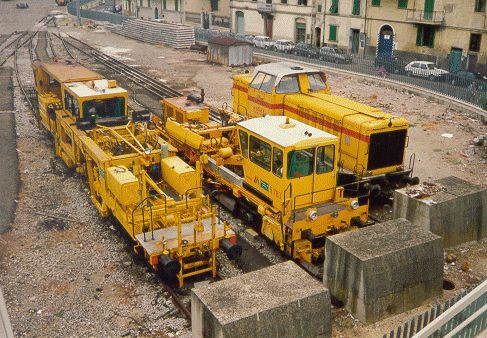 The yard at Montevarchi (AR), host to track maintenance equipment in September 1993
This three-track yard is connected to the station tracks by means of a switchback headshunt track (just visible in the upper left hand corner of this picture) - a perfect prototype representation of the Inglenook Sidings track layout in terms of number of sidings, length of sidings, and general setting.

Sidings used for the stabling of permanent way equipment certainly are an interesting theme for railway modelling, no matter which prototype is chosen, and as they virtually always require some amount of shunting, also make an ideal theme for a shunting puzzle layout. As such, Montevarchi is a perfect example to illustrate the fact that you can have a layout which in terms of trackplan and visuals is a bit of both: shunting puzzle and prototype modelling.
Back to the Model Railways Shunting Puzzles Website main page
Page created: 08/NOV/2001
Last revised: 28/JUNE/2015