Prototype inspirations for Inglenook Sidings layouts
---
CANADA
CANADIAN NATIONAL RAILWAY
BAYERS LAKE YARD, HALIFAX (Nova Scotia)
This portrait of Bayers Lake Yard is based on material kindly provided by James Jones.
All photographs on this page are (c) James Jones and may not be reproduced without prior consent of the copyright holder.
---
Bayers Lake Business Park, close to downtown Halifax, was developed in the mid 1980s and has grown ever since. It is over 580 acres (236 hectares) in size and one of the major concentrations of light industrial and commercial activity in Greater Halifax. Warehouse retail "superstores" are especially present, but there have also been major warehousing, trucking, distribution, and manufacturing operations established in the Park.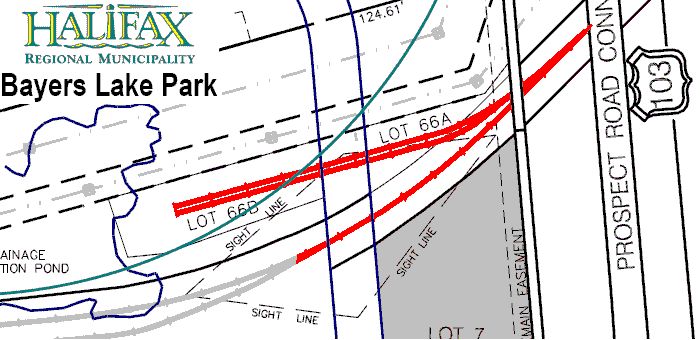 Canadian National Railway provides direct rail service and a common user facility within the Park, the track layout of which is a perfect prototype example for an Inglenook Sidings (marked in red).
The three tracks are split by the main line with two going to the right to an unloading ramp and the third going to a lumber wharehouse, with another spur diverging from this track further on.

This branch - a 7 mile stub - is, in fact, all that remains of the old Halifax and Southwestern which ran from Halifax to Yarmouth. The Inglenook track arrangement becomes even clearer in this view, taken from the highway overpass.

The highway overpass (seen in the view below) is another prototype example for a common layout feature - the fiddle yard exit.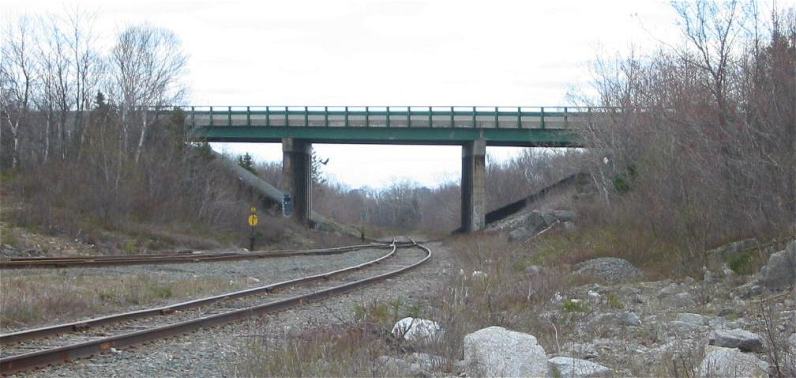 | | | |
| --- | --- | --- |
| | | Activity in the yard is limited, but despite the rather basic facilities there are many features which would make great modelling details. Freight car types include gondolas, boxcars and even a bulk head lumber car. |
---
Back to the Model Railways Shunting Puzzles Website main page
Page created: 07/NOV/2005
Last revised: 18/SEP/2013