---
---
SOUTHERN
(NEW) SOUTHERN RAILWAY Ltd
(2004 to date)
---
On May 30th 2004, just over a year after signing its seven-year franchise, South Central was rebranded as the Southern, the trading name for what initially was the New Southern Railway Ltd before becoming the Southern Railway Ltd. The branding cost the company around £250,000 and according to official statements deliberately harked back at the "old" Southern Railway. One of the "big four" private railway companies before nationalisation in 1947, the SR had in its days enjoyed a firmly established reputation for first class service, delivery of performance and investment (witness the SR's extensive thrid rail electrification programme).
| | | |
| --- | --- | --- |
| | | Now a wholly owned subsidiary of Govia Ltd, a UK based joint venture transport company between Go-Ahead (65%) and Keolis SA (35%), the trading name was taken to underline the new Southern Railway's intention to operate to equally high standards, promising new or refurbished trains across the network, completion of a £115m depot upgrade project, station improvements with new ticket machines, and better on-board services. |
The Epsom Downs branch saw words put into action virtually coinciding with the launch of the new Southern, as extended engineering work took place over the weekend of 8th and 9th May 2004, during which the branch was re-ballasted together with a complete track renewal at Banstead and on part of the line crossing the Downs en route to Belmont.
This included longer and welded rails on concrete sleepers, replacing shorter segments of track on wooden sleepers.

Track at Banstead
in September 2004 (left) and in August 1992 (right)
This important infrastructure rejuvenation was a commitment in favour of the branch which it hadn't seen since Network SouthEast's decision in the late 1980's to modernise the station layout at Epsom Downs. This time around, however, all stations on the line benefited as facilities for passengers were further improved and added to.

All stations had already been equipped with train information devices during Southern's operating period as South Central, but now even further passenger information was added. Since the days when the stations on the branch became unstaffed, passengers had often been left with no information at all as to when the next train was going to arrive or depart - this was especially true, of course, in the event of delays.
Now, Southern provided and maintained a level of service to passengers which had been absent from the line for decades.

Not only had the company taken the line out of the misery of the Connex era, it had actually, within a very short time span, provided a substantial and sustained upgrade of both infrastructure and passenger facilities.

Train information at Banstead

Train information for a delayed service at Epsom Downs

(click on loudspeakers to listen to a wav sound file)
Southern was also quick to bring its corporate colours and design to the entire branch, further emphasizing the general atmosphere of a change for better. This was certainly also helped by the opening of the new CCTV control centre at Streatham Hill in March 2005 as part of a £ 3.1 million package of measures in passenger safety and security funded by Transport for London and Southern.

Making rail travel safer and easier across the capital had become a growing issue since the 1970s and reached critical levels in the 1990s when it became increasingly clear that not only were the railways faced with an image problem, but they were actually losing passengers who could opt for other means of transport.
The increase of anti-social behaviour, ranging from vandalism to violence, is especially problematic on branches such as the Epsom Downs line, where stations can be remote and lonely places at certain times. Whilst Network SouthEast had at least tried to tackle the problem on this branch, Connex's policy of factual neglect actually made things worse.

Quite unlike its predecessors, Southern had adressed the need to provide reassurance to passengers seriously and with top priority right from the start of its operations as South Central. The advanced measures implemented in Spring 2005 enhanced Southern's already robust strategy to tackle anti-social behaviour and improve customer service levels for passengers. As part of this commitment, Southern agreed to pay the running costs of the new Control Centre.



CCTV information sign at Epsom Downs in 2005
Only a few months later, in July 2005, Southern provided another upgrade to customer services by installing and putting into service new ticket machines at Epsom Downs and Belmont, after Sutton had been one of the first stations to have QUICKticket machines in May 2005.


Newly installed QUICKticket machine at Belmont, September 2005

Equipped with touch-screens, these self-service ticket machines are faster than the old machines and have a much wider variety of ticket types to any destination on the national network. They also provide further flexibility by accepting cash, credit or debit cards to buy daily, weekly or monthly season tickets.

The only station to be left out initially was Banstead, where passengers were left with facilities originally installed in the outgoing Network SouthEast era (in the form of a machine dispensing a "proof of travel" token, indicating the station where a train was boarded), until a ticket machine was finally installed in October 2011, along with two Oystercard readers.

In parallel, Southern emphasized (and continues to do so) a policy of involving the communities served and parties interested in the operations by providing information in the form of a monthly stakeholder's bulletin.

Regarding motive power used on the line, Southern also kicked off an extensive refurbishing programme in 2004 for its fleet of Class 455 EMU units - the main form of motive power used on the Epsom Downs branch at the time and indeed since the late 1980s. After some two decades of stalwart service the Cl 455 units clearly were in need of a substantial overhaul also aimed at rectifying some of the interior design deficiencies associated with theoe trains.
Southern Cl 455s thus underwent an extensive mid-life refurbishing at Eastleigh, where the bodywork was treated to remove corrosion and new vinyl covered floors fitted. The unpopular low backed seats were replaced with high backed versions, retaining the 2+2 and 3+2 seating arrangement, and a space for wheelchairs, with all interior finishes replaced as well.
For added security each car was equipped with four CCTV cameras and windows made of vandal resistant glass, along with fitting a passenger information system.

The most noticeable exterior difference was the removal of the end gangways which were plated over with a central window.

Unit numbers on refurbished units were now displayed in full TOPS form in two groups of three digits (e.g. 455 840), replacing the traditional four digit unit designation (e.g. 5840). Furthermore, a black box recorder and improved train performance diagnostics were fitted.

The first refurbished unit (455 828) entered service in March 2004, and the programme was fully completed by the end of 2005. Gradually, newer stock in the form of Cl 456 (built in 1990/91) has been used more frequently, but the Cl 455s remain the mainstay of services on the branch.



Refurbished Cl 455 840 ready to leave Belmont with a London Victoria service on September 27th 2005
Parallel to refurbishment of the stock run on the branch, Southern continued to upgrade both track and stations in conjunction with Network Rail, the infrastructure owner.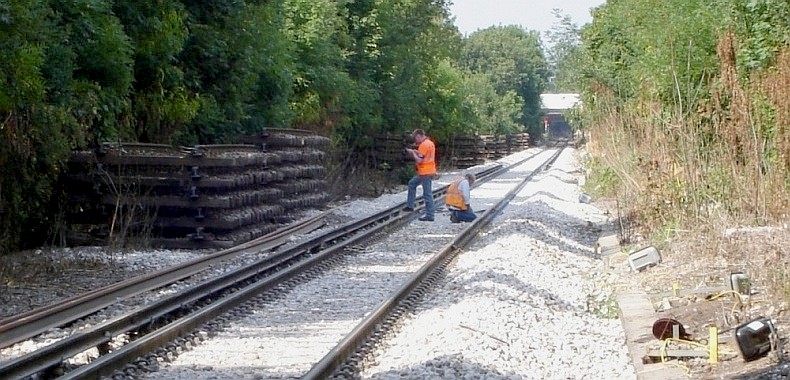 Staff performing checks in between two weekends of civil engineering work just outside Belmont station, looking towards Sutton, on July 24th 2006. Track renewal on the branch is evident as old segments of sleepers and track are stacked for removal whilst new track is stored by the side of the track ready to be installed further along the line.
With platform upgrading and installation of matrix-dot passenger information system indicating the next three trains completed, Southern has turned Banstead back into a fairly pleasing station again - something it had not been for at least two decades.
Travel statistics for the Epsom Downs branch reflect the efforts undertaken by Southern since taking on the franchise in 2004 as the annual entries and exits recorded by National Rail show a marked increase in travels to and from the stations on the branch within five years.

Epsom Downs (+ 53%)
2004/05: 44,338
2009/10: 67,916

Banstead (+ 16%)
2004/05: 93,069
2009/10: 108,084

Belmont (+ 161%)
2004/05: 50,732
2009/10: 132,436



Banstead station, looking towards Epsom Downs, on July 24th 2006
Whilst the growth in passengers at Banstead (where patronage was traditionally high) compares favourably to other lines, the figures rocketed for Epsom Downs and simply crashed through the roof for Belmont. The trend continues, as the figures for 2010/11 show a total of 139,754 passengers for Belmont, and improved facilities and services at Sutton have resulted in a rise from 4,7 million passengers in 2004 to 6,6 million in 2008.
The success of Southern's rail operations (in June 2008 the company also assumed responsibility for Gatwick Express services and in December 2008 took over services between Redhill and Tonbridge from competitor Southeastern) made them a strong contestant for the franchise renewal put forward for tender by the Department for Transport in August 2008. Four bidders were shortlisted (Southern, NedRailways Ltd, National Express, and Stagecoach), and on June 9th 2009 the DoT announced that Govia retained the franchise and would operate the service until 2015. In December 2011, the Department announced that the Southern franchise would be absorbed into the next Thameslink franchise, which Govia won on May 23rd 2014.

Now labelled the Thameslink, Southern & Great Northern passenger franchise (TSGN), it covers regional and commuter services into London in an area stretching from King's Lynn, Cambridge, Peterborough and Bedford to Southampton, Brighton and Ashford, TSGN is described by the Railway Gazette as the UK's largest franchise in terms of passenger numbers, trains, revenue and staff, with the combined 2014 operations carrying 273m passengers/year with a staff of 6 500 and generating passenger revenue of £1.3bn.

On July 26th 2015 the original South Central franchise operated by Govia under the Southern brand ended and was incorporated into TSGN, which as a franchise will run until 2021.
FURTHER INFORMATION
Official Southern Website (*)
(*) The Epsom Downs branch website is not affiliated or associated with Southern Railway Ltd
COPYRIGHT NOTICE
Text, pictures and illustrations which are not labelled specifically are (c) Adrian Wymann and may be used freely for non-commercial use, provided that the source is indicated clearly. In all other cases the copyright holder is indicated, and this material may only be used with prior consent of the copyright holder.
Page last revised: July 5th 2015