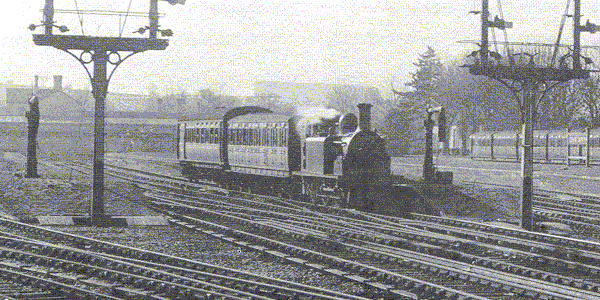 1928 branch train with D1 leaving Epsom Downs
(R.C. Riley Collection)
Racing days brought an otherwise unseen variety of engines to the branch: Marsh 4-4-2Ts, I3 4-4-2Ts, H 0-4-4T, E5 0-6-2T, with Pullman service invariably being hauled by 4-4-2T locomotives.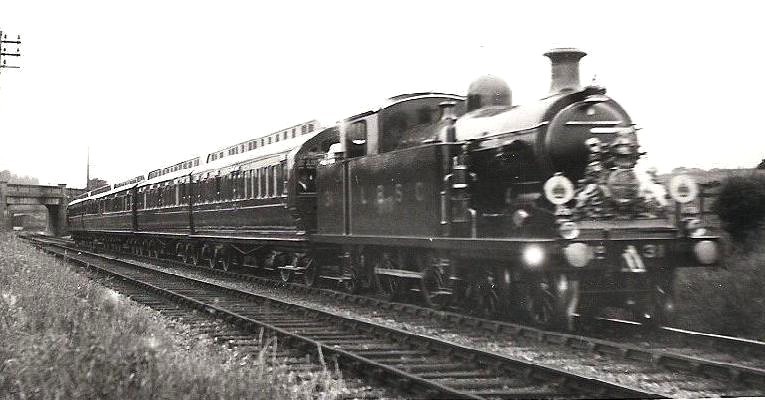 The Royal Train pulled by Marsh I4 class locomotive no. 31 (12-40 departure from London Victoria to Epsom Downs)
has just left Belmont on 4 June 1913. This engine was withdrawn in January 1936.
(NN, A.T. Wymann Collection)
This photograph, hand-coloured for the production as a postcard, shows another Marsh I class 4-4-2T locomotive (introduced in 1907/08), the standard LBSCR choice for the Royal train to Epsom Downs (the last of which ran to Epsom Downs in 1924).

The caption on the postcard reads "Royal train near Banstead"; the towering signal on the left is the "intermediate signal box C" (in use only on racing days) and shows that the train has only a few hundred yards to go before it reaches Epsom Downs.
Following electrification of the line in 1928, steam locomotive haulage was limited to goods trains.

Branch goods trains were hauled by various E1 class locomotives during the LBSCR period. The Southern Railway used various 0-6-2T engines, such as classes E3, E4, E4X, E6 and E6X. Initially out of West Croydon shed, they later had their base at Norwood Junction shed. During the British Railways period, C2X 0-6-0s and subsequently Moguls were used on freight traffic such as domestic coal, gradually dropping off after 1964.

Following the demise of such services to the stations along the line, steam hauled trains became a rarity. In most cases, such ventures onto the branch occurred as specially chartered "railtour" events.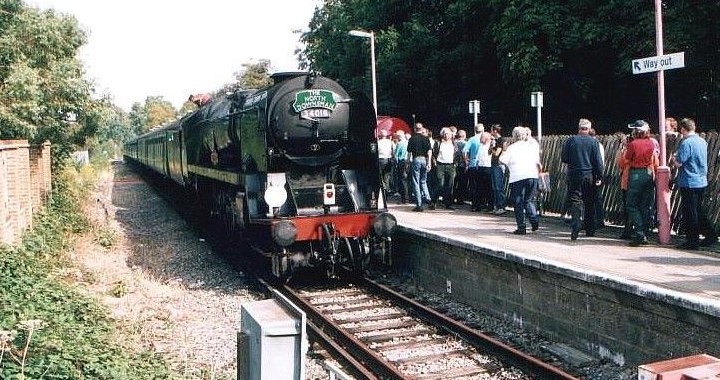 Steam returns to the branch in September 2003 when Bulleid 'West Country' Pacific Bodmin pays a railtour visit to Epsom Downs
(c) John H. Bird
ELECTRIC MULTIPLE UNITS (EMU)
Since the electrification of the line in 1928, the electric multiple unit (EMU) has reigned supreme - not surprising for what has essentially been a commuter branch since the 1920s.

In the days of the classic "Southern Electric", most services were operated by SUB (suburban) EMUs.

After 1945, all-steel units steadily started to replace the older wooden-bodied stock.

In 1951, the first EPB (Electro-Pneumatic Brakes) designs, direct descendants of the SUB, were introduced.

These two and four car units (2EPB and 4EPB, later designated Cl 416 and Cl 415) became the main motive power on the branch throughout the 1960s and 1970s, and these slam-door EMUs were only gradually replaced by sliding-door stock (Cl 455) during the latter half of the 1980s.

Two 3SUB sets with two additional coaches in between on a Victoria to Epsom Downs service at Banstead in 1938
(Lens of Sutton)


Cl 416 325 pulls into Banstead in July 1987 with an Epsom Downs to Victoria train
The interior of these slam-door units was characterised by wooden panelling and soft seats
(Adrian Wymann)

An artist's impression of a Cl 455/8 to promote the NSE livery

The Cl 455 EMUs were built in three batches (455/8, 455/7 and 455/9).

All were formed as four car sets with two driving trailer coaches, an intermediate trailer and a non-driving motor coach which carried all the traction equipment (four 250hp motors reclaimed from 4-SUB units). The body shell was a shortened version of the Mk.3 coach body.

The Cl 455/8 were the first batch, delivered in 1982 to the Central and South Western divisions of BR network.
During the late 1980s, Network SouthEast gradually phased out the EPBs on the branch and replaced them with Cl 455/8 multiple units.
Since 1988, the Cl 455/8 EMU works by far the largest part of all services running onto the branch, and the long reign of the Cl 455 on the Epsom Downs Branch is reflected by the variety of liveries seen on members of this multiple unit.

In July 1987, a British Rail Blue & Grey liveried unit makes its way across Banstead Downs en route from Belmont to Banstead.

(Adrian Wymann)

The Network South East era is long gone by August 2000, but a Cl 455/8 glides into Banstead station still wearing NSE "toothpaste" livery.

(Adrian Wymann)

Cl 455 820 is about to depart from Banstead on for the last lap of its journey in April 2001, wearing the Connex SouthCentral White & Yellow livery.

(Adrian Wymann)
The advent of the Southern not only brought about a new livery, but also also kicked off an extensive refurbishing programme in 2004 for its fleet of Class 455 EMU units.
After some two decades of stalwart service they were in need not only of a substantial overhaul but also of some corrections to a number of interior design deficiencies regarding e.g. seating layout or passenger information and safety installations.

Refurbisment was undertaken at Eastleigh, with the most noticeable exterior difference being the removal of the end gangways, now plated over with a central window. Unit numbers are now displayed in full TOPS form in two groups of three digits (e.g. 455 840), replacing the traditional four digit unit designation (e.g. 5840). Furthermore, a black box recorder and improved train performance diagnostics are fitted.



Refurbished Cl 455 831departs Epsom Downs for London Victoria on 1 October 2005
(Adrian Wymann)
The first refurbished unit, 455 828 entered service in March 2004, the programme was completed by the end of 2005.
Cl 456 EMUs (built in 1990-91) started to venture onto the line in the mid-1990s and began appearing more and more often on the branch in the following decade.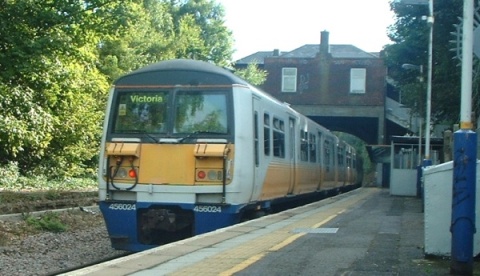 Cl 456 024 stands at Banstead with an off-peak London Victoria service on 25 September 2005
(Adrian Wymann)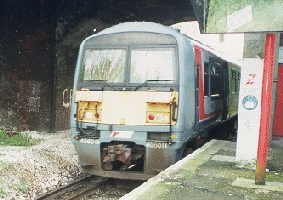 Cl 456 arriving at Banstead in April 1995 (left, Adrian Wymann) and departing Banstead with a Victoria service in March 2002 (right, Robert Oakes)
All 24 sets of Cl 456 EMUs were transfered to South West Trains in 2013 following the arrival of new Cl 377 stock to Southern that same year (Marsden, 2013).
LOCOMOTIVE HAULED & MAINTENANCE
Since electrification of the line in 1928, locomotive hauled trains became a rarity on the branch and have only occured in conjunction either with special trains (the great British institution of the enthusiast's railtour has made Epsom Downs a port of call since the 1950s) or maintenance duties (such as the annual "water canon train" usually to appear on the line in November in order to wash away the accumulation of fallen leaves).
14 April 1979

Cl 73 127

"Suburban Venturer" Railtour

Organised by the D.A.A. Railtour Society, the "Suburban Venturer" arrived at Epsom Downs shortly after 11am and then headed back to Sutton a quarter of an hour later. Class 73 Electro-Diesels have been occasional visitors both to the old and new Epsom Downs stations on railtour duties.

(Alan Austin)
28 March 2007

Cl 901 002

Converted in 1991 from a Cl 101 DMU for departmental use, 901 002 was rebuilt by BR's Research & Development Division as a test train also known as Iris II. It travelled on the Epsom Downs branch in late March 2007 doing track video survey work for its owner Network Rail.

(James Wray)
25 January 2014

Cl 37 610

"Buffer Puffer 11.0" Railtour

Regularly organised by Pathfinder Railtours, previous "Buffer Puffer" excursions had already called at Epsom Downs with Cl 73 and Cl 33 locomotives, but January 2014 saw a total stranger call for a stop in the form of Cl 37 610 (Cl 37 405 was at the tail end).

(Bob Faulkner)