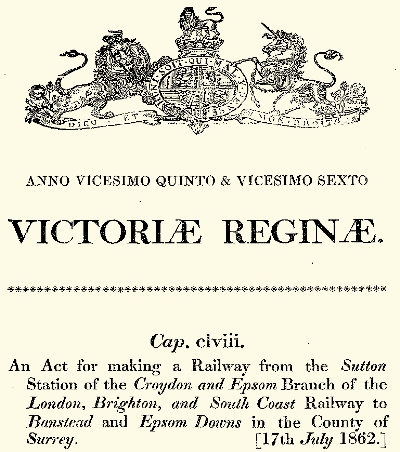 The complete act - scanned from an original print in my personal collection - can be downloaded as a pdf file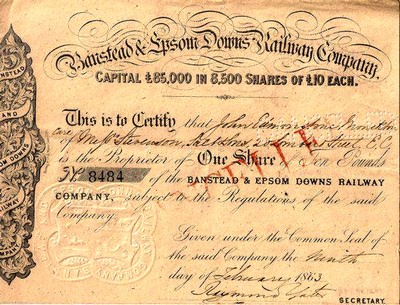 (Ian Dinmore / railarchive.org.uk, used with kind permission)
It is therefore hardly surprising that right from the beginning of the railway age in the South East, horse racing events were seen as an important market segment.
The London & Southampton Railway, for example, opened its line between Nine Elms and Woking earlier than planned in May 1838 and arranged for unscheduled train stops at a location close to where Surbiton station now stands. The result was dramatic: 5'000 people tried to get a seat at Nine Elms on "Derby Day" (Kirkby, 1983), and by the mid-19th century, attendance at the Derby was around 500,000, including the Royal Family and members of Parliament (Stanley, 1956).
THE BANSTEAD & EPSOM DOWNS RAILWAY
Race traffic continued to grow accordingly, and thus a group of local businessmen got together and formed a company known as the Banstead & Epsom Downs Railway, for which they applied to Parliament and duly received authority on 17th July 1862.
The act, totalling 56 paragraphs on 18 pages, not only dealt with standard questions in conjunction with the building of a new railway line but was also set out to safeguard third party interests.
Primarily, this concerned the London Brighton & South Coast Railway which had every intention of keeping its controlling power at Sutton station (now to become a junction), but it also concerned the trustees of the Ewell to Burgh Heath turnpike, which the railway planned to cross by means of a bridge, for which detailed building conditions and instructions were set up.
And finally, due to fierce opposition of both the Lord of the Manor of Epsom Downs and the Epsom Grandstand Association, the original plans to build the station as close as 220 yards to the Grandstand had to be revised and the station built some 1'100 yards away from the Grandstand.
And so, what is today the Epsom Downs Branch was born out of one reason only: horse-racing.
It was the time of short railway line proposals all over England, a large part of which found themselves in some kind of trouble almost right after their Bill had been passed - and the Banstead & Epsom Downs Railway Company fared no better as it tried hard to raise its capital of £85,000 (the approximate equivalent of £9,350,000 today) through 8,500 shares at a nominal value of £10 each.