---

---
By the mid-1970s, Marvel had fully embraced the marketing concept of selling multiple comic books packaged in a sealed plastic bag to a customer base which comic books could hardly reach otherwise: people shopping at supermarkets and large grocery stores.

It didn't really matter therefore that buying these three comic books in a comicpack for 74¢ (rather than from a newsagent for 75¢) clearly presented no real bargain - it was the opportunity and convenience to pick up a few comics at the same time parents and adults did their general shopping. Neatly packaged, it almost became an entirely different class of commodity.

The MARVEL MULTI-MAGS we are looking at here features three titles from the September 1975 cover date run (meaning they were actually on sale in June 1975): Avengers #139, Jungle Action #17, and Conan #54.

There is no general rule to state what shape/grade the comic books in a MARVEL MULTI-MAGS (or any other comic pack for that matter) will be in. After all, a lot of things can go wrong during their 40+ years of storage.

Some of these potential mishaps will only affect the plastic bag, others might not harm the packaging as much as the contents. As a result, almost any combination is possible: you can have a polybag displaying lots of wear but perfect comic books inside (meaning it was mostly stored in a dark and cool place but at some time took some soiling or slight mechanical abrasion), but you can just as well have a near pristine polybag holding comic books showing substantial paper degradation (indicating the bag was stored well but exposed to light and excessive warmth for an extended period of time).

Given its age, the polybag of this September 1975 MARVEL MULTI-MAGS is very clean in comparison to some packagings of the same period and only shows one sign of wear - a fairly small tear just below the sealing line of the label (also visible is the punched "air escape" hole which ensured flat packaging once the pouch was sealed).

But fortunately, this slight wear of the bag did not harm its contents.

The three individual comic books inside proved to be in excellent overall condition: pristine covers with perfect gloss and shine, perfectly flat and tight (without any spine stress), with no creases and sharp edges, and off-white pages.
No titles had permanent slots in the MARVEL MULTI-MAGS, although the Avengers and Conan did feature often. But no matter the frequency, missing out on the continuation of a storyline was a distinct possibility with some titles (such as Avengers and Conan) and all but certain with others (the third title in this specific MULTI-MAGS, Jungle Action, appears to have been included no more than just this once). On top of this, the continuity of the Marvel Universe of the 1970s was such that storylines usually evolved over more than one issue, so that having one single issue of a title would possibly provide for an entertaining read but also most likely end on a cliffhanger - to be resolved in the next issue (which would not necessarily be included in any subsequent MARVEL MULTI-MAGS).

This didn't exactly make the MULTI-MAGS an ideal way of getting your Marvel comic book fix. However, one needs to bear in mind that this was a common fate of the average comic book reader in the 1970s Bronze Age, whether his or her comic books came packaged in a plastic bag or as single issues from a display or spinner rack. Back in those days, an uninterrupted supply of specific titles simply was not guaranteed. Not worrying too much about possible gaps in storylines became something of a routine - besides, you would usually get a recap of what had happened so far on the first page. So all in all it simply was a part of being a comic book fan in the 1970s - just as the monthly Bullpen Bulletins (which were the responsibility of the editor-in-chief) and the in-house advertising were.

The Bullpen Bulletin ("A frantic, frenetic, fun-filled foray into the fable-fraught fortress of fandom's favorite fraternity!") featured a verbose announcement of an upcoming Treasury Edition of the Wizard of Oz by Stan Lee in his regular SOAPBOX column, while the first of the various ITEM! bullet points actually talked about the non-publication of some previously announced 50¢ Giant-Size titles.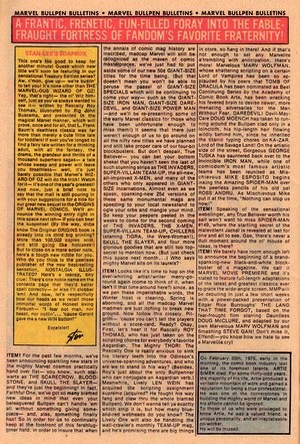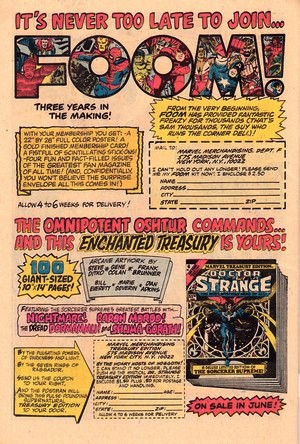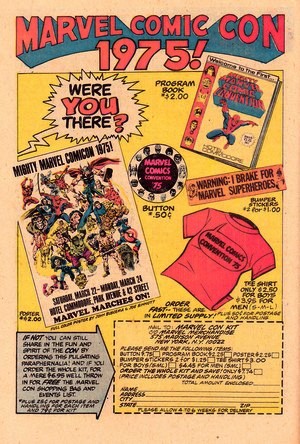 Marvel was precariously overextending itself in a continued attempt to push the competition off the newsagent racks by flooding them with its own product - but, as readers were told in the typical Marvel style:

"it seems that there just weren't enough of us to go around on all the nifty new titles we have planned and still take proper care of our four-bit blockbusters. But don't despair, True Beliver (...) keep your peepers peeled in the weeks to come".

The other ITEM! bullet points were chiefly concerned with new scripting and art assignments on various titles , and a special announcement box broke the news to readers of the passing of Artie Simek (6 January 1916 - 20 February 1975), letterer supreme:

"He was one of the cornerstones in building the mighty world of Marvel and his efforts cannot be ignored".

The problem of Marvel creating a hyperinflation of titles was mirrored in a full-page in-house ad promoting subscriptions, which featured no less than an astonishing 63 colour titles plus 14 black & white magazines. In comparison, DC Comics had 38 colour titles to offer newsagents in mid-1975 (September cover date production run). Marvel was clearly winning the numbers game, but it wasn't sustainable and would continue to cause massive headaches for its editors over the next two to three years as issues could not be finished on time.
Also included in all three comics collected in this MARVEL MULTI-MAGS was a combined FOOM / Giant-Size Doctor Strange in-house advert, as well as a 1975 Marvel Comic-Con merchandising ad.
---
AVENGERS #139

September 1975
(monthly)
On Sale: 17 June 1975

Editor - Len Wein
Cover - Gil Kane (pencils) & John Romita (inks)

"Prescription: Violence!" (18 pages)
Story - Steve Englehart
Pencils - George Tuska
Inks - Vince Coletta
Lettering - Irv Watanabe
Colouring - Phil Rachelson

Synopsis
! SPOILER ALERT !

The Whirlwind - old enemy of (at the time) Ant-Man and the Wasp - attacks the critically injured Janet Van Dyne (aka the Wasp) in hospital while also trying to bring down Yellowjacket. His motives become clear when Whirlwind is unmasked - he has been the chauffeur for Janet Van Dyne and Hank Pym (aka Yellow Jacket) for several years, gaining their confidence in order to strike a final and decisive blow against the couple.
Ultimately, Yellow Jacket and the Beast bring Whirlwind down and foil his plot. In a different subplot, Iron Man and Moondragon travel to Dr. Doom's old castle, worried about Hawkeye's absence since his attempt at using Doom's time machine in order to find the Black Knight.
Avengers #139 is an excellent example to show how comic book fans could get by quite well even if they were unable to procure an uninterrupted run of a title. Whereas the encounter with Whirlwind is pretty much a done-in-one story, readers could piece together why Janet Van Dyne was in hospital (the splash page made it clear that the Toad had something to do with it, and further details were not required to enjoy this issue on its own), and the Hawkeye/time machine thread was very low key (it sounded interesting but it was also clearly another story for another day, so not to worry too much, there were plenty of those).

All of which just goes to show what a splendid job Steve Englehart did, and the only regret one could have about George Tuska's pencils is that Iron Man doesn't feature in too many panels.
The Avengers,being a monthly title, featured a regular letters page, aptly named "Avengers Assemble".

---
JUNGLE ACTION #17

September 1975
(bi-monthly)
On Sale: 17 June 1975

Editor - Len Wein
Cover - Gil Kane (pencils) & Frank Giacoia (inks)

"Of Shadows and Rages" (19 pages)
Story - Don McGregor
Pencils - Billy Graham
Inks (credited) - Billy Graham
Inks (uncredited) - Virgil Redondo *
Lettering (credited) - Charlotte Jetter (pages 1-11)
Lettering (uncredited) - Karen Mantlo (pages 11-19) *
Colouring - Michele Wolfman

* uncredited contributions as per this issue's creative talent information on comics.org

Synopsis
! SPOILER ALERT !

Killmonger invades Central Wakanda with his army, his assassins, and his dinosaurs. The Panther meets him at Warrior Falls. Just as Killmonger is prepared to kill the Panther, Kantu pushes Killmonger over the falls.
If Avengers #139 was an excellent example to show how comic book fans could get by quite well even if they were unable to procure an uninterrupted run of a title, then Jungle Action #17 is proof that this wasn't always the case - since it featured part 12 of a 12 part story ("Panther's rage") which would even be followed by an epilogue (making it more of a 13 part story arc). Clearly, if you missed some (or all) of the previous instalments you would be somewhat wondering what was going on and even who everybody was.
Incredibly enough, Jungle Action was a bi-monthly title during its entire run, so even readers who did follow every part of "Panther's rage" saw this one through over a period of two years.

Clearly an oddball choice for a MARVEL MULTI-MAGS, the data regarding the contents of Marvel's comicpacks of the 1970s seems to indicate that this was in fact the one and only time an issue of Jungle Action was part of a MULTI-MAGS. Reading it as such the story comes across as slightly confusing; certain characters are hard to place, the presence of dinosaurs (explained, no doubt, in previous instalments) is perplexing, and any depths of the plotting are most likely lost on the reader as a slow paced story suddenly jumps to its conclusion, almost as though the creative team ran out of pages.

Jungle Action was initially a Tarzan-style reprint title until the Black Panther took over as of Jungle Action #5 (July 1973); the title ran for a total of 24 issues until cancelled in November 1976.

The title is also interesting from a comic book history point of view: Billy Graham, who took over the artwork as of Jungle Action #10 (July 1974), was the only African American comic book artist working for a major publisher at the time.
---
CONAN THE BARBARIAN #54

September 1975
(monthly)
On Sale: 17 June 1975

Editor -Roy Thomas
Cover - Gil Kane (pencils) & Tom Palmer (inks)

"The Oracle of Ophir!" (18 pages)

Story - Roy Thomas
Pencils - John Buscema
Inks - Tom Palmer
Lettering - John Costanza
Colouring - Phil Rachelson

Synopsis
! SPOILER ALERT !

Arriving in the city state of Ronnoco with Princess Yvonna as a hostage, Conan and his companions Captain Murilo and Tara quickly learn of impending doom in the shape of a giant shadow creature. At the suggestion of Conan, King Belzamo of Ronnoco agrees to consult with an oracle and commands Conan to undertake the mission.
At the cave where the oracle of Ophir resides, Conan find a massive guardian denying him entrance. After defeating him and taking the giant's ornate sword, the Barbarian crawls through the narrow cave entrance and finds the oracle - a cowled skeleton who speaks in riddles Conan cannot comprehend, and decides that it is best to take his leave from this eerie place. As he exits the cave, he finds that a new guardian has taken up position – and he is a spitting image of the Cimmerian himself. It is clear to Conan that there is magic at work here, and he discovers that the sword he picked up from the giant guardian compels him to not leave the place. Falling back on his own sword, the Cimmerian defeats his Doppelgänger and hastily sets out back to Ronnoco - while a looming black shadow darkens the horizon...
The adaptation of Robert E. Howard's Conan the Barbarian (first published in Weird Tales Magazine in December 1932) is one of the big success stories of the House of Ideas, and it was Roy Thomas who convinced Stan Lee and publisher Martin Goodman - although the initial suggestion came from outside the company:

"Marvel's readers kept writing us letters saying we should pick up the rights to a few of these things that were coming out in the bookstores as well as doing superheroes. One thing they suggested a lot was a sword and sorcery title, and especially Robert E. Howard and Conan were being mentioned. I was somewhat familiar with them and Stan really wasn't." (Roy Thomas in NN, 2010)

Lee told Thomas to write a memo to Goodman, and the rest is comic book history.
However, after a first issue with a small print run but excellent sales, Conan the Barbarian was initially off to a disappointing start.
"For a combination of reasons every one of the next seven issues sold less well than the one before. (...) It seemed to be going nowhere fast (...) and then Stan decided to take a look at the covers (...) "You've got too many animals on the covers," he said (...) "Get some more humanoid menacing-looking villains instead" (...) [so] we had skeletal warriors on the [next] cover and that issue, #8, picked up in sales and the next issue, which had a kind of menacing winged man on it fighting Conan, that picked up a little more from there and after that it was never in any kind of danger of being cancelled for the next fifteen, twenty years." (Roy Thomas in NN, 2010)
Conan the Barbarian had a staggering run of 275 issues from October 1970 to December 1993 with a very loyal readership, not the least due to the long stints of writer Roy Thomas (who penned issues #1-115 and #241-253) and penciller John Buscema (who provided the art for issues #25-190).
---
No 1970's Marvel comic book was, of course, without (a lot of) third party advertising, some of which was "okay" (mostly if it featured Marvel characters) and some of which was, well, something else (such as the infamous flea market ads promising anything and everything). All three titles included in this September 1975 Multi-Mag carried exactly the same ads, some of which are illustrated here.
---
| | | |
| --- | --- | --- |
| | | Today, MARVEL MULTI-MAGS are first and foremost a time capsule; opening that plastic bag offers a nostalgic glimpse into what it was like to be a comic book reader in the 1970s. And then as now, the combination of the three titles in these sealed polybags could go either way. Sometimes it's all thrills, and sometimes there's a lemon (or two, if you're really unlucky) in there. |
This September 1975 MARVEL MULTI-MAGS would, I am pretty certain, have left me with almost the same impression back then as it does today.

For a very long time, Earth's Mightiest Heroes were almost a guarantee for good Marvel superhero reading, and Avengers #139 is definitely a comic book I would have loved as a teenager - and it has aged rather well, too, so remains a really entertaining read to this day.

The same goes for Conan #54, with a highly entertaining plot, a flowing storyline and some great artwork. I wouldn't actively seek out Marvel's sword and sorcery material back in the days, but whenever I chanced upon it, most of it was good entertainment - and Conan #54 is exceptionally well done.

Which leaves the comic book sandwiched into the middle of this MARVEL MULTI-MAGS - which could at times be an uncertain bet. From today's collector's perspective, Jungle Action #17 is interesting, but of course an awful choice for a MULTI-MAGS, given that it features the final segment of a 12 part story arc. Sacks (2014) is full of praise ("By the time it finished, 'Panther's Rage' became Marvel's longest self-contained narrative, earning McGregor a well-deserved reputation for long-form plotting and thoughtful characterization (...) a 209-page epic [fuelled by] McGregor's passionate writing style"), but on its own, Jungle Action #17 does not make me want to read any of the preceding instalments, and I seriously doubt I would have felt any different back in the 1970s.
---
BIBLIOGRAPHY
N.N. (2010) "Roy Thomas on the History of Conan", published online at ICv2, 14 October 2010
SACKS Jason (2014) American Comic Book Chronicles - The 1970s (1970-1979), TwoMorrows Publishing
---
---