---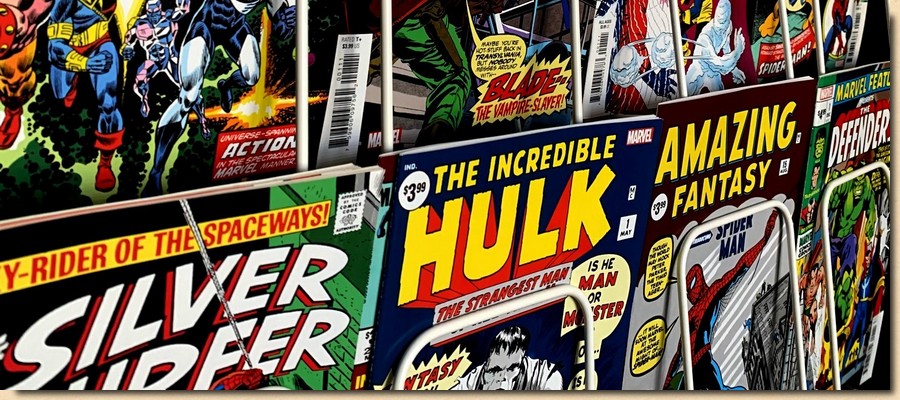 Every hobby has its nostalgic myths and icons, and for many, few things embody the youthful days of perusing and buying comic books the way the spinner rack does. So much so, in fact, that both Diamond Distributors as well as a Kickstarter enterprise offered new versions of that swivelling metal-frame symbol of comic book feelgood in 2019.
But as is the case with a good many nostalgic myths, the spinner rack never was the lighthouse of comics it is often portrayed as.

"The cold retailing history was that the spinner rack was originally developed not as a showcase, but as a response to 20th century newsstands and grocers who found comics unprofitable and undesirable, and who wanted them off their magazine shelves. Sticking them all onto a standing rack allowed newsstand owners to stick them off into a corner - "a place for comics to go and die," as one observer recollected." (Miller, 2018)

Of course, this did not affect the perception of comic fans at the time, to whom the spinner rack was where they would congregate or, if in an unknown location, look out for.


A classic spinner rack, 1956
There was, however, one serious problem connected to the spinner racks, which was indeed of concern to comic book fans at the time:
"It was a constant struggle back then to find a pristine copy of your favourite heroe's adventures without a rip or a tear (...) [going] to one store after another to find (...) even one really good copy of any given book." (Rosenberg, 2006)
Spinner racks typcially exposed comic books to potential physical damage by virtue of how they display them. Potential customers would often bend comics to see what was behind them, thus causing stress lines on the cover that can be quite noticeable, and if they pulled out a comic book and then decided against buying it, it often went back into the spinner rack without much care, resulting in tatty corners and edges and even torn covers and pages.

Toys'R'Us, Orlando FL, May 2014

In this age of condition-conscious collectors, one would thus expect the spinner rack to be banished forever as a hellish apparatus and threat to comic books - but as is often the case with nostalgic icons, their perceived status is somewhat removed from the reality of "back in the days".

The nimbus of the spinner rack is, however, somewhat limited to the US - whilst not entirely unknown to comics fans in Europe and the UK, they were always more used to seeing their comic books displayed on shelves (as is mostly the case in the US these days).

For obvious reasons, this method of displaying comic books is almost as potentially harmful as the spinner rack.
However, if you feel somewhat nostalgic and don't mind some of your comic books getting a few knocks and wrinkles, but don't want to spend roughly $300 for a new spinner rack (vintage ones sell for much more), there is a budget DIY option which gives you something of a cross-breed between a spinner rack and a display shelf.
All the parts needed are sold by IKEA, so they should be available basically anywhere you can find one of their stores.

The main component for this nostalgic comic book rack is the Skådis pegboard, which is available in three different sizes: 36 x 56 cm (14 1/8 x 22"), 56 x 56 cm (22 x 22") and 76 x 56 cm (29 7/8 x 22"). The 36 x 56 cm pegboard will provide you with a total of six rack pockets (three rows of two slots).
Mounting the pegboard to a wall is easy enough.

All you need is a drill, two screw anchor dowels (depending on what type of wall you're dealing with) and two screws (these are not supplied but are needed to secure a wall mounting rail which comes in the package).

I got my Skådis pegboard for 14.95 Swiss francs; it is currently (November 2019) listed for £8.00 in the UK and $9.99 in the US. Along with the pegboard you will need the galvanized metal, powder-coated Skådis "letter holders"; they are available as single items and are designed to securely slot into the pegboard. Six of these hooks (article number 403.208.15) are needed, selling for 3.00 francs (or £1.50 / $2.00) each.

This puts the total cost for the rack shown here at 32.95 Swiss francs. In the UK this would set you back a total of £17.00, whereas in the US the total bill would amount to $28.99 - certainly a lot cheaper than anything you can buy ready-made.

Filled with some of Marvel and DC's recent facsimile comics, the visual effect is quite eye-catching and does evoke a certain sense of nostalgia.

At this point, I found that I actually had room for two 36 x 56 cm pegboards side by side, so I added another. Of course it would have been easier (and cheaper) to simply get the larger pegboard (76 x 56 cm), but then this was initially a test run of an idea I had when I first saw the Skådis pegboard in my local IKEA store.
Be aware and keep in mind, though, that displaying your comic books this way will not keep them in pristine condition for very long.

Depending on the number of individual comics slotted into one bracket holder (which can hold between five or six of them, giving this display rack a maximum capacity of a good 60 issues) there will be noticeable spine stress and page rolling, and as the rack is obviously exposed to light (although mine avoids direct sunlight), some discolouration can also be expected over a longer period of time.

In other words: you do not really want to display your most valuable or cherished comic books this way.
One carefree way around these worries is to display doubles, i.e. comic books of which you have two copies. As mentioned, I find the facsimile editions of classic Marvel and DC titles a perfect match for this display rack, and as these have been released very recently (more on these in an upcoming THOUGHT BALLOON), simply buying two copies each made it possible to put some great nostalgia on display.

Just as back in the days, these comics are not only meant to look sharp on display, but are there to be taken down, perused, read, and then put back again. It's simple and low-budget nostalgia in motion.