SYNOPSIS
! SPOILER ALERT !

Victor Von Doom is in search of Vibranium, the "only metal ore which can absorb vibrations", from which he plans to build a deadly arsenal of the most precise rockets the world has ever seen, taking him one step closer to his ultimate goal - world domination. The problem with Vibranium is its rarity, but Doom learns that the one location of origin lies in the African kingdom of Wakanda.

Using a flying scanning device camouflaged as a hawk Dr Doom explores the localities and, once he has seen enough, boards his latest means of transportation - a "nuclear-powered excavator" with which he tunnels his way to Wakanda underneath the Mediteranean Sea.

Once in Wakanda, Dr Doom finds that its most famous native, the Black Panther, has been alerted to his arrival. Focusing on a part of the excavator which has malfunctioned and is in need of repair, Doom is taken by surprise and held at gunpoint by the Black Panther...

In the following issue, the fight between Dr Doom and Black Panther ends in a stalemate and Doom decides it is in his best interest to leave Wakanda without the Vibranium he came for - thinking that the Black Panther might one day turn out to be a useful ally...
REVIEW & ANALYSIS
So-called two-feature titles (i.e. a comic book essentially shared by two different starring characters in their own stories) were a key trait of Marvel Comics throughout the 1960s, but as was the case so often back then, it was really a case of turning necessity into virtue.
The need to split one comic book between two main characters actually had its roots back in 1957, when Martin Goodman's new choice of distributing company for his comics, American News Company, went out of business unexpectedly. Atlas Comics found itself with no other choice than to switch to Independent News, which however was owned by National Periodical - who also owned Goodman's rivals DC Comics.

The well-known outcome of this was that Atlas and then Marvel Comics was limited by contract to a monthly publishing output of eight titles only (Cooke, 1998). As a result, Stan Lee juggled with a mix of bi-monthlies, cancelling Romance and Western titles and turning Horror books into Superhero titles in order to get the distribution slots freed up for what was selling: Marvel Comics brand new and different approach to the genre featuring "superheroes in the real world".

Once the old Atlas horror and mystery titles had been given over to Marvel's new superheroes (albeit retaining their original titles), yet another way of approaching the limited distribution problem was the two-feature title.

This formula had already been successfully tested since Strange Tales #110 (July 1963) when Doctor Strange joined the Human Torch (who would later be replaced with Nick Fury as of issue #135, August 1965). In late 1964 Tales to Astonish became a split book too, with issue #60 (October 1964) featuring the Hulk and the previous solo star character Giant-Man (replaced by Namor the Sub-Mariner as of issue #70) in separate stories. Iron Man followed suit and began to share his Tales of Suspense a month later with Captain America (issue #59, November 1964).

Marvel Comics finally broke free from the distribution constraints in 1967 when Independent was purchased by Kinney National Company and they got a new deal. The result was an explosion of new titles as established characters finally could be given their own comic book - Tales of Suspense, Tales to Astonish and Strange Tales alone split to become six titles instead of three.

As the 1970s rolled around, Marvel expanded yet again, trying to come up with new ideas and concepts.

"This was that period (...) where Marvel suddenly decided to put out a whole bunch of books (...) it was just constantly playing around with stuff, trying to get market share (...) lots of stuff came out in the '70s because of this approach."(Roy Thomas, in Cooke 2001)

Somewhat ironically, Marvel - although for entirely different reasons - ran into the very same problem again: not having enough title distribution slots.

"Evidence suggests that Marvel was planning to put out four new comics - The Inhumans, Black Widow, Ka-Zar and Dr Doom (...) But then it was decided that Marvel was expanding too fast, and there could only be two new mags; so Stan decided it was time to try out the two-feature title again (...) so the Inhumans and Black Widow were put into a new Amazing Adventures... while Ka-zar and Dr Doom would divide Astonshing Tales between them." (Thomas, 2014)
And so, Astonishing Tales #1 was launched with a cover date of August 1970 as a revival of the classic "double feature" format, accentuated by a name which was of course very close to one of the best known such titles from the Silver Age, namely Tales to Astonish.

But it wasn't just the split-feature formula that made it special - Astonishing Tales also had a brand new twist because it featured Ka Zar (who basically was a bit like the Sub-Mariner, a good guy sometimes forced by circumstances to battle it out with one of Marvel's superheroes) and Dr Doom - an archvillain and evil-doer by any standards. Although Doctor Doom was dropped as feature character after Astonishing Tales #8 (October 1971), this was the first time that a major publisher starred a villain in his own title (a few years later DC would follow by giving the Joker his own book), and this move was highly significant for the (yet to happen at the time) early 1970s horror genre surge, as it paved the way for the concept of having a character, which is perceived as being basically evil, assume the starring role of a comic book. In this respect, Dr Doom paved the way for Marvel's classic horror titles such as Tomb of Dracula, Werewolf by Night and Ghost Rider. Other than that, however, Astonishing Tales didn't work that well - and neither did its sister title Amazing Adventures.
The split-feature didn't sit as well anymore as it had in the early to mid-1960s Silver Age, and having two characters in one book which didn't really have much common ground (be it Ka-Zar and Dr Doom or the Inhumans and the Black Widow) didn't help either. And on top of that, the bi-monthly publication meant that readers had to wait an awfully long time to read the next ten or so pages instalment. If all of this wasn't enough to disturb the flow of the title, the Dr Doom stories were plagued with Marvel's frequent inability in the early 1970s to provide consistency for both the writing and the artwork - an indication of the lack of cohesiveness the House of Ideas displayed at the time in both its approach of thinking as well as its approach of handling things when launching a new title.

"Maybe (...) if we'd kept on top of everything - but (...) some of it just kind of got away from us (...) We were just trying to do a little bit of everything." (Roy Thomas in Cooke, 2001)


In-house advertising for Astonishing Tales #1, from the August 1970 Bullpen Bulletin
Roy Thomas provided the first two plots before handing over the writing to Larry Lieber for three issues, who himself was then suceeded by Gerry Conway for two issues. As for the artwork, veteran artist Wally Wood did the first four issues, followed by George Tuska and then Gene Colan who both worked on two issues each.

Given the enormous potential offered by the character of Dr Doom the series in Astonishing Tales did rather poorly. Readers voiced their disappointment about lukewarm plots and uninspired storytelling through the letters pages, and Astonishing Tales #6 is no exception. Although the overall plot of Doom invading Wakanda is promising, Larry Lieber fills it with absurdities (such as Doom's giant nuclear drill) and so much exposition (Doom is constantly talking to himself about what he is about to do and why) that the story almost implodes and comes across as very flat. And while Dr Doom was George Tuska's favourite Marvel villain (Cassell, 2005), the artwork is uneven inspite of there only being ten pages. However, Tuska's rendition of Doom's hawk-shaped "scanner" (think drone in this day and age) provides some classic visuals of the Latverian ruler.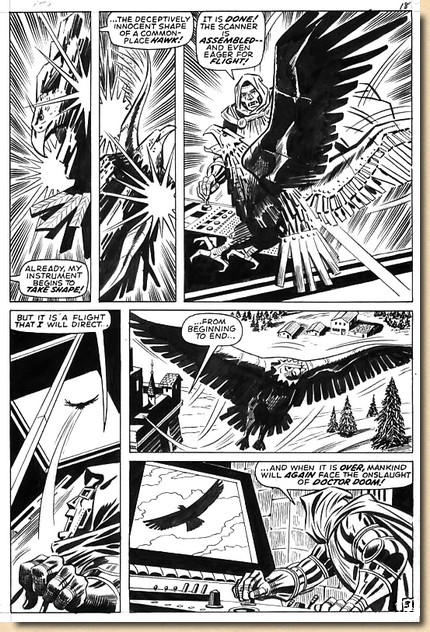 Original artwork by George Tuska (pencils) and Mike Esposito (inks) for page 3 of Astonishing Tales #6 (scanned from the original)
and the same page as it appeared in print
In the end, even Doom's huge popularity couldn't gloss over the feature's lack of oomph. Gerry Conway and Gene Colan put in some very atmospheric work over two issues, but it was already too late, and Astonishing Tales was given over completely to Ka-Zar as of issue #9 (December 1971) before the Colossus called "It!" took over as of issue #21 (December 1973), followed by Deathlook (as of Astonishing Tales #25, August 1974) who ran until the cancellation of the title with issue #36 (July 1976) - apart from the one-issue Guardians of the Galaxy appearance in Astonishing Tales #29 (April 1975).

The same fate befell Astonishing Tales sister title, Amazing Adventures. The Black Widow feature was dropped as of issue #9 (November 1971) and the title given over to Black Bolt & Inhumans before the Beast (of X-Men fame), War of the Worlds, Killraven, and then War of the Worlds again took over. Amazing Adventures was cancelled after 39 issues in November 1976.
FACTS & TRIVIA
Astonishing Tales #6 went on sale in the US on 16 March 1971 and was also made available to the UK market in mid-1971 with a pence price variant cover.

The Black Panther's appearance carries over from Avengers #58.

Astonishing Tales #6 has been collected, together with the entire run of Dr Doom features from that title, in the 2014 Marvel Masterworks Marvel Rarities (Volume 1); it had previously only been available as a black and white reprint in Essential Super-Villain Team-Up #1 (2004).

"The Tentacles of the Tyrant!" was published in December 1972 by Editoriale Corno for the Italian market in I Fantastici Quattro #45, where Dottor Destino (as Dr Doom is called) had a backup slot in the Fantastic Four's own book.

The Dr Doom story from Astonishing Tales #6 was again made available for Italian readers in September 2016 when Panini Italy published their edition of the Marvel Masterworks Rarities.
---
BIBLIOGRAPHY
CASSELL Dewey (2005) The Art of George Tuska, TwoMorrows
COOKE Jon B. (1998) "Stan the Man & Roy the Boy: A Conversation Between Stan Lee and Roy Thomas", in Comic Book Artist #2, Summer 1998
COOKE Jon B. (2001) "Son of Stan: Roy's Years of Horror", in Comic Book Artist #13
THOMAS Roy (2014) "Introduction", in Marvel Masterworks: Marvel Rarities Volume 1