1962 was a year of crisis for the US comic book industry. For the first time in the perceived history of comic books the publishers were forced to raise their cover prices, as rising production costs and inflation cut too deeply into profit margins. The subsequent increase from 10¢ to 12¢ triggered a brutal drop in sales across the board, with DC Comics alone being rumoured to have lost more than $600,000 in comparison to the previous year (Wells, 2012); the statements of ownership required by the US postal services show that the sales figures for DC flagship titles such as Superman, Action Comics and World's Finest dropped by around 25% in 1962 as compared to 1961.

DC Comics (which still called itself National Comics at the time) tried to offset these losses by opening up new sales opportunities and markets and tap into a new customer base, and the means to do so was to start selling comic books in packaged bundles as opposed to the classic individual newsstand copy.
| | | |
| --- | --- | --- |
| Starting with the August 1962 cover date production run, DC called it the COMICPAC. "Comicpacs are 4 brand new DC Comics in a plastic bag", in-house ads explained, emphasizing that they could be purchased "at supermarkets and other retailers". Supermarkets - in stark contrast to the comic book's historical sales venues - were booming. They were popular because they sold many different things under one roof - and evidently, comics were not amongst the merchandise they carried. But by looking at the logistics and display strategies of these outlets, DC found that the answer to breaking into this promising new market was simple - packaged in plastic bags, DC's comic books literally blended in with a large proportion of other goods sold at supermarkets and chain stores. | | In-house ad from Blackhawk #175 (August 1962) for DC's "new" COMICPAC, featuring a bag containing Action Comics #291 (August 1962) |
Strategically placed close to checkouts and cash points, DC's comic packs were a success. Following a hiatus between late 1969 and mid-1971, the Comicpac was relaunched and rebranded as "DC Super Pac".


Super Pac A-3 from 1973, with Brave and the Bold #106 as one of its showcased titles

All of DC's comic packs were reference-numbered right from the start in 1962. This was carried over into the 1970s after the relaunch and translated into a code using a letter plus digit - for example, the Super Pac pictured here is the "A-3" pack from 1973, i.e. the first SuperPac ("A") produced for March ("3").

Rather than just filling the plastic bags at random with any three comic books, a specific Super Pac would thus carry the same three titles no matter where or when it was sold (a few rare exceptions to this rule exist, which are probably either due to packaging errors or makeshift fixes to running out of copies of a certain title).

This raises the question of the decision making ivolved in determining which comics went into which Comicpac. Little to no information on this seems to be publicly available, but the complete data from 1973 shows a clear tendency to include DC's popular or iconic characters and their books. The SuperPac was not, therefore, a convenient means to dispose of surplus stock or unpopular titles - on the (obvious) contrary: DC wanted the Super Pacs to sell.

It is hard to tell if the casual buyers even paid any attention to DC's neat code system, but it is an indication of how organized and structured the comic packs business at DC was. Marvel, in comparison, dropped codes all together in the 1970s, and as a result there is no systematic indication of how many different "Multi-Mags" the House of Ideas was releasing during the 1970s.

| | | |
| --- | --- | --- |
| | | |
| | | you can read more about the history and background of DC's COMICPAC here. |
1973 - THE DC SUPER PAC YEAR IN NUMBERS
DC sold four Super Pacs each month of the year, resulting in an overall total of 48 comicpacks for 1973; as every Super Pac contained three comic books, the total number of different issues packaged throughout 1973 is 144, which is a good third (36% to be precise) of the total 401 issues DC published with a 1973 cover date.
The 1973 run of Super Pacs offered buyers a total of 37 different titles, ranging from the year's full run of 12 issues (e.g. Superman) to a mere single issue (e.g. House of Mystery).
The following graph lists all titles featured in the 48 Super Pacs from 1973 in order of the number of issues carried. A total of 5 titles had all of their issues published in 1973 featured in Super Pacs (indicated by a green bar in the graph): Superman (12 issues), Batman (7), Brave and the Bold (6), Champion Sports (2) and Shadow (2).
Of these, the two Batman titles were ongoing but not monthly publications, while both Champion Sports and Shadow had only started their publication run in September 1973.



Super Pac B-11 features issue #2 of The Shadow, a new bi-monthly title which had both of its issues published that year included in the 1973 run of Super Pacs
Other titles were limited in being included in Super Pacs by the fact that they were cancelled in 1973 (orange bar); in some cases, the final issue of that title was even included in a Super Pac (red bar).

The distribution of all the 37 different titles (in alphabetical order) across the 1973 Super Pacs production is shown in Appendix I (scroll to bottom of page) while the actual contents of the 48 1973 Super Pacs can be seen in Appendix II.
THE 1973 DC SUPER PACS IN PERSPECTIVE
Ever since the initial success of Superman in 1938 there has been a symbiotic relationship between DC Comics and its superhero characters. DC created and perfected the genre, which in return always gave the company a relative stability - even when superheroes went out of fashion in the late 1940s and first half of the 1950s, DC's Superman, Batman and Wonder Woman remained popular. Unlike other comic book publishers, DC never had to totally reinvent itself.
The defining role of the superhero genre (DC's logo would prominently feature the wording SUPERMAN in one form or another from 1942 right up to 1970) is of course also reflected in the contents of the 1973 run of Super Pacs: 21 out of the 37 titles packaged into those plastic bags throughout the year were superhero titles, equaling 57%.

By the end of 1973, DC Comics offered subscriptions to 48 titles (the total number published was slightly higher but titles which sold poorly, weren't expected to last or already slated for cancellation were not made available for subscription (including e.g. Champion Sports, which was however carried in two different Super Pacs).

Comparing these 48 titles on the subscription list to those included in the Super Pacs throughout 1973 shows a few distinct differences. Most strikingly, superhero genre titles made up for only 38% of the subscription titles as compared to the 57% share they had in the Super Pacs - which carried all superhero titles available for subscription with a couple of issues at least, plus three titles which either went on hiatus or were cancelled outright in 1973. Superheroes sold well at the general public salespoints of supermarkets and retail stores, no doubt also thanks to immediate recognition and thanks to their iconic stature.
The massive over-representation of the superhero genre happened mostly at the statistical expense of DC's substantial selection of horror titles, a popular line of solid sellers throughout the 1970s.
Another constant in DC's portfolio of titles with a loyal readership was the war genre, which also found its way into the 1973 Super Pacs in all but a very marginal way, although still faring better than DC's line of romance titles - which didn't make it into the 1973 Super Pacs at all.

On the other end of the spectrum, Sci-Fi and Fantasy titles were also over-represented in the Super Pacs, although here (as with the superhero titles) the difference is partly also due to the fact that the Super Pacs featured a couple of titles which ultimately were cancelled in 1973 (and therefore were not featured on the subscriptions list).

The only genre to be represented in almost equivalent percentages were the so-called adventure titles (such as Tarzan or Kamandi), while no less than five titles could be found in various Super Pacs which represented three genres not open at all to subscriptions in 1973: Sport, Humour and Western.
However, both the horror and the war genre got at least one extra Super Pac appearance in late 1973 - in specially themed packs*.

Labelled "Mystery Pack", DC's special Super Pac M-10 featured House of Mystery #219, Swamp Thing #7 and Witching Hour #36.

A second specially themed Super Pac was labelled "Battle Issues", coded W-11, and featured Star Spangled War Stories #176, Weird War Tales #20 and Our Fighting Forces #146.

Themed comicpacks would seem to be a good idea from a selling argument's perspective, but overall they were the exception until Whitman would produce character themed comicpacks in the late 1970s. DC did, however, produce a second war pack (W-1) for January 1974, but other than that there is no evidence to date which would confirm any more themed Super Pacs.

* These special Super Pacs as well as the comic books featured in them have not been included in the regular 1973 Super Pac statistical data.
The fact that the 1973 Super Pacs also featured no less than 8 titles which were cancelled at some point throughout the year may at first sight seem like an exceptionally high quota (it being, after all, more than one fifth of all titles contained in that year's Super Pacs).
However, the early 1970s were an era of experimentation both at DC and Marvel. New genres and new takes on established characters were being explored and tested all the time, and while some things worked out, others didn't.

"The ones that didn't sell didn't last very long, obviously. We did flood the market, but remember, this was that period (...) where Marvel suddenly decided to put out a whole bunch of books, and DC would have to match it (...) it was just constantly playing around with stuff, trying to get market share... it was really survival of the fittest. There were only these two companies, really, doing that kind of comic, competing with each other (...) lots of stuff came out in the '70s because of this approach."
(Roy Thomas, in Cooke 2001)

In 1973 alone, DC Comics published fifteen new titles while cancelling fourteen. The balance in the Super Pacs was somewhat tilted towards the latter, but not excessively so.
DC's 1973 SuperPacs offered buyers complete runs of three titles: Superman, Batman and the Batman team-up title Brave and the Bold.
1973
JAN
FEB
MAR
APR
MAY
JUN
JUL
AUG
SEP
OCT
NOV
DEC
Superman
B-1
#260
B-2
#261
B-3
#262
A-4
#263
A-5
#264
A-6
#265
A-7
#266
A-8
#267
A-9
#268
A-10
#269
A-11
#270
A-12
#271
Batman
B-2
#247
B-4
#248
B-5
#249
C-6
#250
C-8
#251
C-9
#252
C-10
#253
Brave and the Bold
A-1
#105
A-3
#106
A-5
#107
B-7
#108
A-9
#109
A-11
#110
In 1973, Superman was by far DC's flagship character, and his namesake title easily topped DC's list of publications. Although caught in a steady decline since the late 1960s (as was the case with pretty much every title from every publisher), Superman still averaged a print run of around 670,000 copies each month in 1973 (according to the statement of circulation filed with the United States Postal Service).
The down side to this still impressive figure was that not even half of this print run (roughly 310,000 copies) was actually sold, illustrating just why comic book publishers were looking for new venues to sell their products and, if possible, exit the vicious circle of returnability (where newsagents could send back unsold copies and get refunded, often without having to submit the comic books and therefore often linked to fraudulent behaviour).

Batman, another iconic DC character with his own namesake comic book since the Golden Age, only managed to outsell Superman during the Batmania craze of the 1960s (selling almost 2 million copies a month in 1966). By 1973, Batman was no longer that strong a seller with roughly 200,500 copies over the counter for every issue. Accordingly, the title had lost its monthly publication schedule a while back. However, in terms of iconicity and selling power the Darknight Detective was still up there with the Man of Steel. Hence, with one exception, Batman was always an outside (i.e. visible in the bag) title in 1973.

In terms of sales figures, Brave and the Bold was slightly below Batman, with an average monthly print run of around 367,500 copies of which roughly 189,000 were sold on average (again as per the published statement of ownership).
Although highly systematic at its core, the contents of a specific SuperPac could always potentially deviate from the code of the pack they came in in terms of cover date. This was hardly surprising for titles which did not have a regular monthly publication schedule or which were outright bi-monthlies: Batman #251, with a September cover date, was packaged in the C-8 SuperPac - which by definition was actually one of four August SuperPacs.
But then cover dates were a tricky thing anyway, being around two to three months ahead of the actual month of publication in order to provide a longer shelf life at the newsagents.

However, things got even more confusing at DC for the May 1973 production run:

"Cover dates on comics didn't match magazine dating norms, and by 1973 Marvel's cover dates made them appear newer than DC's, so DC decided to skip using May 1973 and go straight to June." (Levitz, 2010)

As a result, there are no May cover date issues of monthly titles. Not only did Superman thus fall out of sync with the SuperPac coding as of A-5, but this also meant that there were only 11 issues of Superman with a 1973 cover date.
So when it came down to the last SuperPacs of the year 1973, A-12 contained Superman #271 - which strictly speaking had a January 1974 cover date. This situation would continue until April 1975 when DC, after a four month hiatus, relaunched its comicpacks as "DC Super Stars".
DC's 1973 SuperPacs actually offered buyers two more complete runs, although these were both new bi-monthly titles only launched for September 1973; both their issues published that year were to be found in SuperPacs: Champion Sports and The Shadow.

Champion Sports was a short-lived attempt by DC to tap into the sports genre, with stories written by Joe Simon and illustrated by Jerry Grandenetti and Creig Fleissel. The concept didn't latch on with readers and the title was cancelled after only three issues in March 1974.

The Shadow, on the other hand, was DC's attempt at an authentic and true to its origins interpretation of the classic 1930s pulp fiction novels and radio plays vigilante. He also appeared that same year in Batman #253 (November 1973), in which Batman teams up with him and calls the famous crime fighter his "greatest inspiration".
This was, of course, not without a certain amount of irony as Bill Finger, who today is widely regarded as the major inspirational creative source for the Batman (Porter, 2008) together with artist Jerry Robinson, admitted at a later point in time that his script for the very first Batman story in 1939 "was a take-off of a Shadow story" (Murray, 2007).

Super Pac D-4 with Action Comics #423 as one of its showcased titles

Across: World's Finest #220 (Dec 1973) from SuperPac B-10 and Detective Comics #436 (Sept 1973) from SuperPac D-7

The superhero titles also saw a near complete run of the monthly Action Comics with a total of 10 issues (only #422 and #429 weren't included), clearly making Superman the top billed character.

Taking into account the Superman/Batman team-up title World's Finest (which was packaged five times throughout the year), the Man of Steel appeared in an overall total of 27 issues, i.e. in almost every fifth comic book contained in the 1973 Super Pacs.

Superboy (6 issues) and Supergirl (5) added to the "Superman Family", with Jimmy Olsen (7) and Lois Lane (5) completing it. Anything linked to Krypton was very much present in the contents of the 1973 Super Pacs.

However, Batman was also well represented with 6 out of 8 1973 issues of his original feature title, Detective Comics; of the two missing issues one was a 100 pages Super Spectacular selling for 50¢ (and hence unsuitable for the Super Pac format).

The genre was completed by DC's other super power regulars such as Flash (5) and Wonder Woman (4), together with the newly launched Captain Marvel. Once Superman's rival in a copyright lawsuit before DC acquired the rights to the character, the "big red cheese" was pushed quite a bit with 8 issues and would almost certainly have seen a full 1973 cover date run if Shazam #8 hadn't been a 100 pages Super Spectacular.
Green Lantern, who had lost his own title in 1972, was now relegated to being the backup feature in the bi-monthly Flash until January 1977 when his own solo title was revived.

Flash #222 (Aug 1973) from SuperPac D-6

Superhero team titles, on the other hand, were marginal; the Justice League was featured five times, whereas others had only one or two issues packaged into Super Pacs over the entire year - and three of them (Legion of Super-Heroes, Teen Titans and Metal Men) were even bound for cancellation. A few superhero anthology titles also made it into a couple of Super Pacs, such as Wanted (3 issues, cancelled in 1973) or Secret Origins (4).

In terms of superheroes, buyers (or happy recipients) of any 1973 Super Pac thus stood a good chance of finding a comic book featuring one of DC's iconic characters inside, and arriving at a couple of (even consecutive) issues was not at all impossible.

With other genres, you had to be lucky (or unlucky, if it didn't appeal to you), and no less than 10 out of the 37 titles featured in the 1973 Super Pacs only made a single issue appearance, while 7 titles only notched up one more, i.e. two issues throughout the year.

Trying to make out a policy behind this is difficult and ultimately speculative, but it must have also been driven by the fact that only few DC titles actually had a monthly publication schedule in 1973, so there were gaps to fill - although House of Mystery (which only saw issue #210 included in the 1973 Super Pacs) actually was one of the monthlies. Concerns about family and kids friendly content can hardly have played a role, as examples of the (fairly tame) DC horror comics showed up much more frequently in previous and subsequent years.

Other examples, such as Johnny Thunder, didn't really leave many other options - the reprint western title was cancelled in mid-1973 after issue #3. This was also the fate of some other titles which appeared once only in a 1973 Super Pac: both Metal Men and Legion of Superheroes didn't make it through to the end of 1973.


Secret Origins #3 (Aug 1973) from SuperPac A-6
It does however seem slightly odd that out of the 8 titles carried in the 1973 Super Pacs which would end up being cancelled that same year, the very last issue of no less than 4 of those titles can actually be found in a SuperPac.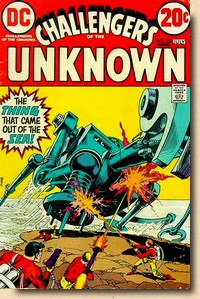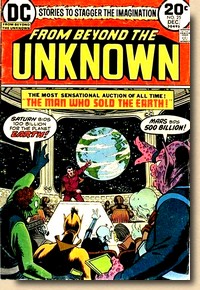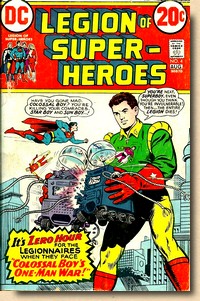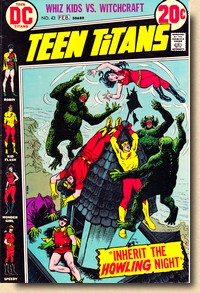 Last issues before cancellation: Challengers of the Unknown #80 (July 1973) from SuperPac C-5 / From Beyond the Unknown #25 (Dec 1973) from SuperPac B-10 / Legion of Super-Heroes #4 (Aug 1973) from SuperPac B-6 /Teen Titans #43 (Feb 1973) from SuperPac A-1
THE 1973 DC SUPER PACS SUMMARY
The 1973 Super Pacs from DC can be summed up as follows:
48 comicpacks (four each month) containing three comic books each
144 comic books - over one third of DC's total 1973 output (401 issues)
37 different titles
3 full runs throughout the year (Superman, Batman, Brave and the Bold)
predominantely packaged with superhero titles
other genres (apart from Sci-Fi and adventure titles) clearly under-represented
Superman most prominent character
some oddities (e.g. sports titles)
featured two new titles and eight which were cancelled in 1973
two special themed Super Pacs, one horror and one war, late in the year
1973 DC SUPER PACS IN FOCUS