CAT SCRATCH BAT
BAT SCRATCH CAT

BATMAN #355
(JANUARY 1983)

"Never Scratch A Cat"
(Part 2 of 2)

(23 pages)

Cover pencils - Ed Hannigan
Cover inks - Dick Giordano

Story - Gerry Conway
Art - Don Newton
Inks - Alfred Alcala
Colours - Adrienne Roy
Lettering - Ben Oda
Editor - Len Wein

No second feature
Letters page - Batsignals (1 page)
SYNOPSIS
This issue concludes the Catwoman story which had opened in Detective Comics #521.
Batman seeks out Selina Kyle who, as Catwoman, has harassed, threatened and attacked the current woman in Bruce Wayne's life, Vicki Vale.

The Darknight Detective finds that Catwoman is so stressed with her emotional rollercoaster ride of jealousy and hate that she has even neglected her pet black panther, and therefore proceeds to search Selina's apartemt for clues as to her plans and whereabouts - which indeed he does find.

However, on leaving the place he is attacked out of thin air by a most vicious Catwoman who is boiling with anger and even threatens to kill Batman.

However, at this point in their fight - and with the Batman almost down and knocked out - Catwoman finally comes to her senses...

She stops attacking the Darknight Detective, and with a feeling of sorrow they both find that their road in life together has finally come to an end.
On another level of events, Boss Thorne is indicted with the murder of Commissioner Pauling, and ex-Commissioner Gordon has an appointment with the mayor, who hands him back his Commissioner badge.
REVIEW & ANALYSIS

This is essentially the same story as in Detective Comics #521 - except it's all different.

Whereas part one was confused, shallow and driven mostly by cliches, Gerry Conway suddenly adds coherence, depth and even a certain amount of drama to the conclusion of the story.
It's a contrast almost as striking as day and night. Part One is best kept in the "forgettable stories" locker, whereas Part Two, standing on its own, made it into a collection of The Greatest Batman Stories Ever Told (vol. 2) (1989). Not for the first (and certainly not for the last) time, quality Batman work at DC seemed to find its way into the Batman title far more easily than into Detective Comics.

"Never scratch a Cat" is all about soul-stirring emotions, and how sometimes those strong emotions can tipple and turn into the opposite of what they originally were - in this case, love lost and scorned turning into rage and even hatred, stepping over that very thin line when personal perceptions get blurred and rational thinking takes a back seat. One might argue that the transition back to "sensible adults" happens rather fast in this instance, but then one would also have to admit that it is quite remarkable that such a theme should be explored in a comic book, of all places. Beginning in 1981, Gerry Conway had added an amazing depth to the combined plotlines and stories in Batman and Detective Comics all throughout 1982, and his characterization of the protagonists involved had followed suit, making them more complex personae than they had possibly ever been.

Some have dubbed it the "marvelization" of the Batman Universe, which in terms of handling continuity certainly was the case. But a story such as "Never scratch a Cat" also shows that the average reader belonged to a different age group than ten or even twenty years before. A ten year old may well have enjoyed the several exhiliratingly drawn action and fight sequences pencilled by Don Newton (who quite unlike Irv Novick's rather mediocre artwork for part one added visual delight and panache to the storytelling), but the essence of the story would, in all probability, have been lost on him.

Pausing for a moment in the story and plot crossovers between the two titles, the end panel points not to the next issue of Detective Comics (as was commonly the case in 1982, with both titles set up as a "virtual bi-weekly Batman title") but to the next issue of Batman.

RECOMMENDED READING - Although having little content substance this is a fast moving story which works not the least thanks thanks to Don Newton's stunningly dynamic and atmospheric artwork.

FACTS & FIGURES

Batman #355, which went on sale 14th October 1982, was sold in three different versions: a US newsstand edition (with a barcode on the cover), a direct market edition with the barcode area left blank (and displaying the DC bullet logo plus the blurb WHERE THE ACTION IS) which also carried a UK price of 20p, and a Canadian newsstand edition which carried a 75¢ price and the indication CANADIAN below the price (cf cover at top of this page).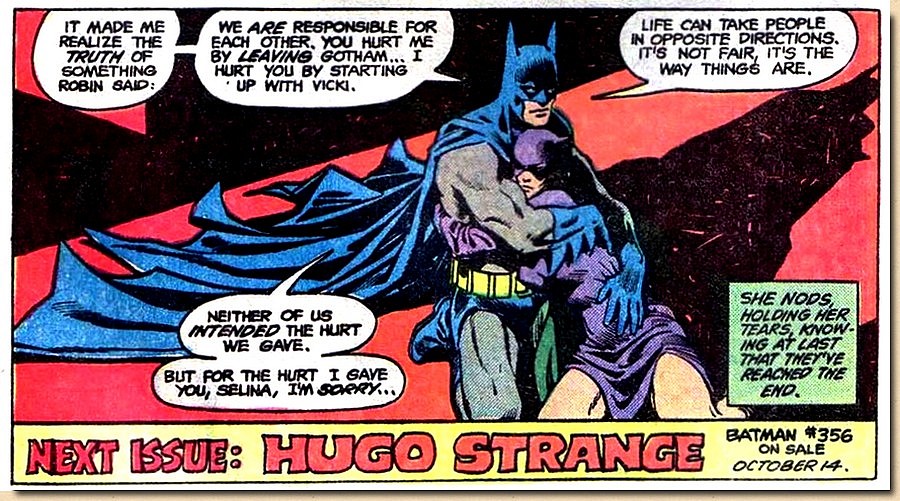 TRIVIA
The nostalgic Catmobile (also known as the Kittycar) seen in the car chase and accident involving Catwoman and Bruce Wayne was introduced hot on the trail of the Batman TV series in November 1966 in Superman's Girl Friend Lois Lane #70, created by writer Leo Dorfman and artist Kurt Schaffenberger. This was also the first Silver Age appearance of Catwoman, which incidentally also typecasts her as a woman who loves to get into a fight with another female, in this case Lois Lane.
Catwoman's very first appearance in the Batman Universe is somewhat overshadowed by the fact that she shared the pages of Batman #1 in April 1940 with the first appearance of Batman's most iconic foe - the Joker.

"Never scratch A Cat" was also published in various foreign markets in 1984: in Batman Taschenbuch #21 (translated into German by Egmont Ehapa for the German, Swiss and Austrian market), in Superserien #1/1984 (by Semic AS for the Norwegian market, featuring "Lynvingen" (Batman) and "Kattekvinnen" (Catwoman)), and in Super-Heróis #18 (by Agência Portuguesa de Revistas for the Portugese market). As mentioned, the story also featured (without its disappointing run-in from Detective Comics #521) in Warner Brothers' 258-pages strong second volume of The Greatest Batman Stories Ever Told, published in 1989.

Although time travel popped up frequently in DC comics, the fact that the publishing date given for Batman #356 in the last panel of Batman #355 is wrong and actually indicated the publication date of the very comic book readers were holding in their hands while reading that announcement was a mere editorial glitch.