Marvel launched its own UK imprint operation in late September 1972 with a comic book which would become both its flagship title and its publication credo and motto: the Mighty World of Marvel. Edited in the US under the supervision of Tony Isabella but printed in the UK to a larger format than American Marvel comic books, the 40 page Mighty World of Marvel #1 kicked off a row of highly successful years for what would soon be known as "
Marvel UK
". Reprinting the House of Ideas' classic material from the very beginnings and in chronological order, Mighty World of Marvel - or MWOM, as it was also affectionately referred to by fans - started out with the origin stories of the Hulk, the Fantastic Four and Spider-Man. The latter two would soon move to their own or other Marvel UK titles, but the Hulk would remain on board for the entire run of no less than 329 issues before Mighty World of Marvel simply became Marvel in January 1979.
The UK comic book market of the 1970s differed greatly from its counterpart in the US as it was quintessentially keyed at a weekly interval of publication, with predominantly black and white contents and multiple storylines (and therefore often also various different characters) in one issue. Marvel UK followed this formula to a T, and MWOM therefore always featured multiple (and sometimes very diverse) reprint material in one issue. In fact, by 1976 Mighty World of Marvel was host to no less than four Marvel A-list characters: the Hulk, the Avengers, Conan, and Daredevil.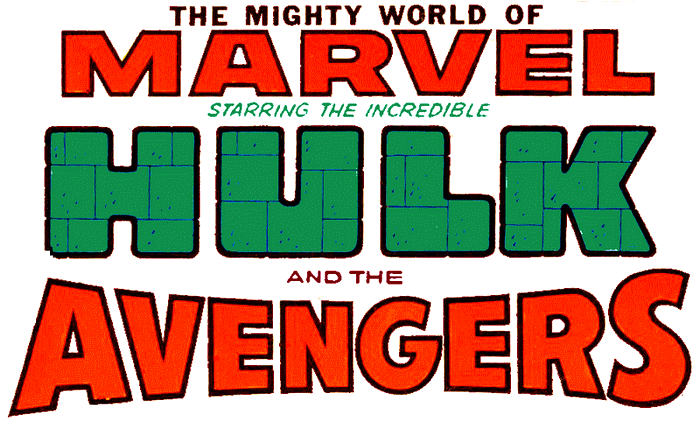 So let's take a closer look at the black and white content behind the glossy cover of Mighty World of Marvel #210, which went on sale in the UK the first week of October 1976.
---
The weekly publication schedule and the use of multiple characters and storylines for Marvel UK's output required serialization of the original material, i.e. a storyline published in one US issue at the time would be spread out over several issues of a Marvel UK title.

Starting out by reprinting the beginning of an original US issue was, obviously, the easiest way for Marvel UK editorial to handle things. This was the case with the Hulk feature in Mighty World of Marvel #210, which therefore kicks off with the original splash page and story title - with a slight alteration. Taking into account the lack of colour in its reprint format, the splash page of MWOM #210 dropped the colourist's credit for Glynis Wein and replaced this with crediting Mike Espositio for "tones".

Marvel's green gamma-ray growler became the unofficial lead character of MWOM very early on, not the least thanks to the Hulk's immense popularity with UK readers, and therefore often received star billing and the first pages of many issues of Mighty World of Marvel.

The original mid-1970s material reprinted at the time had a page count of 18 per US issue, which generally resulted in 9 pages of Hulk per issue of MWOM, i.e. the original material was cut in half.

The need for serialization caused by British comic book market habits effectively required Marvel to put in a substantial amount of extra work to meet the need for new covers and splashpages (where the UK reprint actually consisted of the second or even third half of an original issue).
But more troublesome than this were the headaches caused by the fact that the British reprints were catching up on the original material at a frightful speed.
The calculation was an easy one: reprint half of an original issue per week and you end up using the output of two months in the US for one single month in the UK. Not a real worry at the outset of operations, this almost inevitable modus operandi clearly became worse in an exponential way over time. In the case of Incredible Hulk, MWOM was already reprinting US material from May 1975 by the beginning of October 1976. Even cutting down to a serialization in three parts of six pages couldn't bring things into sync, only marginally slow down the pursuit.

The story is a standard mid-Bronze Age Hulk story which starts out as Bruce Banner and General Thunderbolt Ross gaze at the aftermath of the complete destruction of the "Hulkbuster" base by the Devastator (events which took place in the previous US issue). Ross is nevertheless upbeat because Banner has not turned into the Hulk since, a sign of him being able to control the transformation process at least at times.

The two then meet with Betty Ross, Nick Fury and Clay Quartermain and discuss the plans to free Glenn Talbot from a Soviet Siberian fortress codenamed "Bitterfrost". Told the next day that he cannot accompany the rescue team, Banner plans to stowaway and thus hides into the rear of the plane near the weapons pod as he wants to help Betty be rejoined with her husband.

Once airborne, the plane is soon spotted by the Gremlin, a Soviet villain scientist who attacks it. The plane tries to evade the missiles fired by the Gremlin and the pilot decides to drop its weapons pod in order to gain height and speed - which means that Banner is ejected with it. Knowing that his only hope of survival is a transformation into the Hulk, Banner wills about the change and turns into the "emerald man-brute" just as the pod hits Soviet soil and is utterly destroyed. The Hulk, however, survives without a scratch... - CONTINUED NEXT ISH!, as the small editorial paste-up proclaims.

The serialization sometimes also had other side effects - such as, in this case, leaving the UK reader with 9 pages of a Hulk story in which only the last three panels actually depict the Green Goliath. But then the glossy colour cover (possibly by Pablo Marcos) in a way made up for this.
The Hulk installment is followed by a Bullpen Bulletin page (more on this later on) after which MWOM #210 continues with the second Marvel feature billed on its cover - the Avengers.
---
| | | |
| --- | --- | --- |
| Starting out with one of the many extra splash pages produced by Marvel's NYC staff for Marvel UK, this example (based on the last panel reprinted in MWOM's previous issue) illustrates how these pages were not only needed to avoid an all too abrupt entry for readers into what was in fact a mere segment of an original flow of events, but also to provide a recap of "the story so far". This was also important for original material which was serialized into short segments in order to ensure that readers didn't lose sight of what was going on from one week to the other. | | |
This was especially true for the Avengers material reprinted in MWOM during the autumn of 1976, which was the classic milestone Kree-Skrull War -
a story arc written by Roy Thomas and pencilled by Neal Adams, Sal Buscema and John Buscema which itself ran for an entire nine issues when originally published in
Avengers
#89-97 (June 1971 to March 1972).
Whilst serializing this saga into weekly segments of five pages neutralized the aforementioned problem of catching up with the original material, it potentially made following this specific story in a coherent way a very difficult task as the Kree-Skrull War is commonly noted (and praised) for its almost Shakespearean portrayal of an interstellar warfare with an enormous cast of characters and frequent use of metaphor and allegory.

"Running nine issues, much of it spectacularly illustrated by Neal Adams, the Kree-Skrull War had no precedent in comics." (Sanderson, 1998)

Editor Neil Tennant (of later Pet Shop Boys fame), in charge of Mighty World of Marvel at the time, was conscious of the complexity of this particular story arc and tried to prevent readers from slipping. Firstly, by providing detailed recaps on the additional splash pages, and secondly by adding information which was absent from the original in order to provide UK readers with a cliffhanger which made sense (when in the original material the story continued right away on the next page).

An example of this can be seen in the final panel of the Avengers installment in MWOM #210, where editorial added further exploratory text which made it clear to readers what was happening in this panel whilst at the same time providing a heightened sense of suspense leading into the next page (i.e. in this case next week's installment).

Introduced in Mighty World of Marvel #46 (August 1973) the Avengers were promoted to their own weekly UK mag only a month later as Marvel UK expanded its range of titles in a continuing wave of success. But by 1976 the British comic book market was harshly overshadowed by a UK economy in a state of trauma.

Following an inflation rate which had climbed to 20+% in 1975 (Wanninski, 1975), the value of the British pound sterling began to slide during the first quarter of 1976. By September that year confidence in the pound had virtually collapsed, and the British government was forced to seek help from the International Monetary Fund. At the time, this was a measure only seen used by third world countries, and it would be a long time before it would once again become a scenario applicable to European countries such as during the 2011/12 Euro crisis or the near financial collapse of Greece in 2015. Back in 1976, the political crisis in the wake of that economic downturn left Britain in a state of gloom (Burk, 1992).

Marvel UK was forced to thin out its line of titles, and as a result the Avengers lost their own title in July 1976 after 148 issues - and found themselves back in the pages of Mighty World of Marvel again. The merger of various Marvel weeklies resulted in a rise from three to four features in one title, leaving less pages for, in this case, the Avengers than they had enjoyed previously.
Things were starting to get a little cramped in Marvel UK's titles in late 1976 - a fate also suffered by the next feature in this issue of MWOM, Conan the Barbarian, who had joined the Avengers in their move from The Avengers to the pages of Mighty World of Marvel when that title was cancelled.
Two pages of readers' letters were slotted in between the cosmic Kree-Skrull war and the sword & sorcery of Conan.
---
The Conan feature reprinted in Mighty World of Marvel #210 afforded the editorial staff the same luxury as the Hulk installment, namely the possibility to use an original splashpage as is. In doing so Marvel UK sometimes made an effort to adjust the otherwise incongruous credits for "colouring" (as on the Hulk splashpage in this issue), and sometimes they didn't - as can be seen here, where Glynis Wein remains noted for a work contribution purposely withheld from the UK readers.

As the splash page also informs us, this is the final part of an adaptation of Gardner F. Fox's novel Kothar and the Conjurer's Curse - yes, that is the prolific comic book author who also was a prolific writer of novels. Roy Thomas, on the other hand, adapted the plots of several non-Conan novels during his run on Conan the Barbarian, simply changing the original protagonist into Robert E. Howard's fantasy king Conan but otherwise sticking fairly close to the original material. This was also the case with Fox's Conjurer's Curse, which Thomas turned into an adaptation running for a half dozen issues, with Conan the Barbarian #51 being the closing part.

In MWOM #210, readers saw Conan show up at the entrance to Unos's palace with a covered cage, demanding to see the regent to give him a gift. Pushing his way into the palace, a seemingly bored Unos allows him to speak, so the Barbarian pulls the cover from a cage which contains a bizarre magical talking bird. The strange creature then proceeds to disclose various events of treachery and wizardry which have taken place lately and which could also affect Unos - whom the strange bird calls an unnatural creation of demonic magic.
Conan and the bird then leave the castle, after which the starnge creature turns back into the sorceress Lipalina, and the two wait for the inevitable arrival of Unos, seeking help in defeating the powerful wizards plotting his death ...
At this point, the installment ends for this issue of MWOM, and the CONTINUED NEXT ISH! banner indeed looks like a carbon copy of the one used for the Hulk installment of that very same issue.

Marvel's successful diversification of the Bronze Age into genres such as sword & sorcery or horror had been spearheaded in the US by the highly successful Conan the Barbarian #1 in October 1970, ultimately clocking up a staggering 275 issues before bowing out in December 1993.

In the UK, however, his own title (which also introduced him to British readers) failed to work up any magic: Savage Sword of Conan was cancelled in July 1975 after a mere 18 issues and only four months' presence on the newsstands. The Barbarian was immediately transfered to the pages of The Avengers as of issue #95 in mid-July 1975, at the cost of Dr Strange.
Merging features from cancelled titles into more successful mags became standard practice for Marvel UK, and with the difficulties the comic book industry faced by mid-1976, some characters went on a merry-go-round as more and more weekly titles were grounded and those which soldiered on took up some of the shipwrecked Marvel heroes.
Following Conan's switch to The Avengers (which thereafter became The Avengers and the Savage Sword of Conan), he once again became homeless when the Avengers lost their own weekly title in mid-July 1976. As a result, the Avengers and Conan were both carried over into the pages of Mighty World of Marvel - although Earth's mightiest heroes only lasted for 13 issues of MWOM before being moved once again (as of issue #212 in late October 1976), this time to the pages of Super Spider-Man and the Titans. It all showed just how unstable things had become, and the line between enjoyable diversity and chaotic discontinuity was becoming evidently thin. Conan himself was dropped altogether from The Mighty World of Marvel as of issue #220, but would resurface in The Savage Sword of Conan (vol. 2) #1 in November 1977 - a publication set in a magazine format with 52 pages and published monthly rather than weekly, and clearly aimed at a more adult readership.
---
"A Star is Born!"

Originally published in Daredevil #67 (August 1970)
Original story title: "Stilt-Man stalks the Soundstage"

Script - Gary Friedrich (plot by Roy Thomas)
Pencils - Gene Colan
Inks - Sid Shores
Lettering - Artie Simek

Original page count: 20
Reprinted pages: 6 (plus Marvel UK splash page)
Daredevil, like the Hulk, was always a regular feature of Mighty World of Marvel ever since replacing Spider-Man (who moved to his own title at the time) as of MWOM #20 (17 February 1973). Although he was given the occasional cover appearance he never receiving top billing, but even in the most tumultous times of Marvel UK's title mergers and cancellations remained a solid part of MWOM.
MWOM #210 featured the concluding six pages of Daredevil #67 (and therefore also a Marvel UK splashpage, in this case of disputable quality), in which

Karen Page has been offered a role on the new Stunt-Master television series and gets Daredevil to agree to appear in the pilot episode.

The climax presented here to UK readers sees DD downing the Stilt-Man (who disguises himself as Stunt-Master) - and another terse moment between Ol' Hornhead and his love interest.
Still reprinting the classic Gene "the Dean" Colan material from - depending how you look at it - the very late Silver or very early Bronze Age, there was nothing that could go wrong here once readers were past the somewhat out of style splashpage especially produced for this issue of MWOM. These were always unpredictable and could go both ways as, rather surprisingly (from a money making point of view) the process of blowing up and turning single page panels into splashpages seemed to be applied less and less by the editorial staff at Marvel UK.
---

---
The single Bullpen Bulletin page (which however carried no such title) gave readers "thrilling thoughts to amaze and amuse" them - and focused mainly on the imminent launch of Marvel's very first UK superhero: Captain Britain.
"Next week is it, folks! Is what, you ask? Why, the week of the newest, greatest sensation from the fabulous House of Ideas, Captain Britain!! We've hinted at it over the past few weeks, but we've not even come close to the excitement that awaits you in the latest, greatest British Weekly!! Not only do we have a brand-new, never-before-seen feature in the book (namely one Captain Britain), but we also have - colour! That's right, effendi, two - count 'em, two - features in this fantabulous new title will be in totally-titanic tones! Naturally, ole CB will be in colour 'cause we want ya to get the full impact of this new Claremont/Trimpe/Kida creation - but we're also, for your enjoyment and edification, using the same mind-boggling colour-process on the fabulous Fantastic Four feature which is moving over from The Titans (unabashed plug!). If you only plan on buying one Marvel mag next week - and how could you even think of such a thing? - make it the pulse-pounding premiere issue of Captain Britain!! (a collector's item in the making!)"
The powers in charge at Marvel's NYC offices had come to the conclusion that the time was right for some original content within Marvel UK's line and turned out a character whose name said it all: Captain Britain. - with more than obvious parallelisms to Captain America. Captain Britain #1 hit the newsagent stands a week after MWOM #210, on 13 October 1976, featuring an eight page colour story titled "The origin of Captain Britain" penned by Chris Claremont, drawn by Herb Trimpe, inked by Fred Kida, and - yes indeed - coloured by Marie Severin.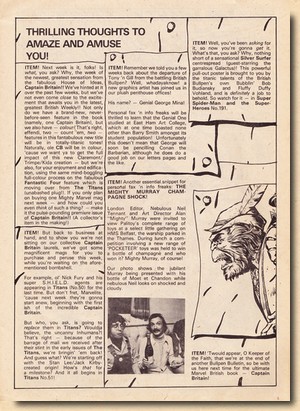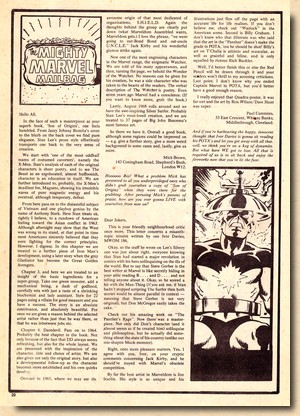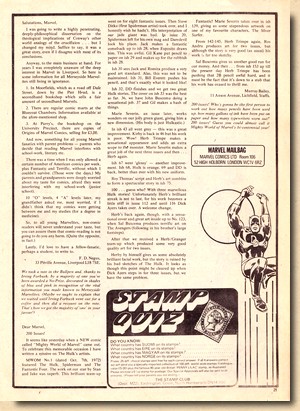 As a sideline, the editorial shout-out also hints at the previously mentioned many changes which Marvel UK's weeklies saw in their line-ups, all usually at very short notice, during 1975 and 1976.

Apart from the usual commentaries and banter on the likes and dislikes of readers concerning characters, stories and art as well as other readers' letters and points of view, the letter pages of MWOM #210 also contains - rather somewhat outside of the regular tone of these pages - one reader's lengthy review of Stan Lee's Son of Origins book, and another reader's anecdotic memories on how his parents and grandparents once feared that his comic book reading would interfere with his education but now see him getting a degree in medicine, whilst a third reader ran through a nostalgic look back over 200 issues of Mighty World of Marvel.

Inserted between the Conan and Daredevil features was a semi-page third party advertisement for regular advertiser Meccano, providing some period flavour from today's perspective, plus an also semi-page in-house advertisement for the Super Spider-Man Roadshow event in Doncaster.

And finally, the back cover in its full splash of glorious colour advertised the brand-new Marvel UK Weekly and its even brand-newer title character: Captain Britain ("for the first time in any comic - Britain's own superhero") - in full colour.

Colour had been a wish expressed in many fan letters ever since Marvel UK launched its first weeklies, and it would initially secure good sales figures for Captain Britain. However, the novelty attraction would wear off fairly soon as the overall quality of the CB material left many readers rather disappointed, and as a consequence the title would be cancelled after 39 weekly issues in July 1977.

More on Marvel UK in 1976:
---
EPILOGUE
MIGHTY STILL FOR MANY YEARS
Marvel UK's presence on the British comic book market during the Bronze Age period was to a large extent tied to its first and flagship title, Mighty World of Marvel. Since the relaunch of the title as plain Marvel Comic in January 1979, the label Mighty World of Marvel had vanished from the newsstands. However, following the cancellation of Marvel Superheroes in May 1983, a second volume of MWOM was launched in June 1983 which ran for 17 issues until bowing out in October 1984.
After that, and for a period of almost twenty years, the ominous title was not seen on the British comic book market and was, by all practical means, a ghost from the past.

However, in February 2003, Panini Comics (who had obtained the license for publishing Marvel material in the UK back in 1995) revived the title as a so-called "Marvel Collectors' Edition", featuring colour reprints of normally three complete US Marvel comics from all eras (Silver Age to current) spread out over 76 pages. Again, the highly popular Hulk acted as lead character.

The new MWOM ran for 86 issues up to September 2009 before being relaunched with issue #1 in October 2009 (technically making it volume 4) in order to promote the World War Hulk storyline. In March 2012 the title had been vacated by its long-time mascot the Hulk who left for his own title, and in July 2014 the numbering of MWOM was reset to issue #1 when the Marvel Now! stories began to be reprinted, relaunching The Mighty World of Marvel in its by then 5th volume.

The next relaunch of MWOM (making it volume 6) happened in January 2016, followed by yet another reset of numbering in April 2018. This 7th volume of the title would, however, prove to be the final one for the time being, as Panini cancelled the title after 22 issues in November 2019, prior to yet another planned relaunch. The COVID pandemic which was to follow only a few months later would effectively also wipe out all other remaining Panini titles.

Panini announced a limited number of relaunches in 2021, but Mighty World of Marvel was not amongst the planned titles.

Other than the title, there were few if any resemblances between the Mighty World of Marvel of 1976 and the 2000s, when MWOM was published every four weeks and reprinted three complete US issues on 72 colour pages inside a cardboard cover.

Reprinting entire US issues in a monthly publication cycle also did away with the need for specially produced covers, splashpages, editorial copy and - most importantly - serialization. Which was probably just as well, as a weekly title containing just a few pages of today's decompressed storytelling would leave most readers stranded and without a clue as to how to piece the weekly installments together.
---
BIBLIOGRAPHY
BURK Kathleen (1992) Goodbye, Great Britain: The 1976 IMF Crisis, Yale University Press
KIRBY Rob (2013) "The Mighty World of Marvel UK", in Back Issue #63, April 2013
SANDERSON Peter (1998) Marvel Universe, Abrams
WANNINSKI Jude (1975) "Goodbye, Great Britain", The Wall Street Journal (April 29 1975 issue)
---
---
First published on the web 1 October 2015
updated and revised 25 August 2022
Text is copyright (c) 2015-2022