DETECTIVE COMICS #66
(AUGUST 1942)
MEET "TWO-FACE"

"The Crimes of Two-Face"
(13 pages)

Story - Bill Finger
Art - Bob Kane (signed)
Inks - Jerry Robinson, George Roussos
Colours - NN
Lettering - Ira Schnapp
Editor - Whitney Ellsworth
Cover - Jerry Robinson (pencils & inks), George Roussos (backgrounds)
"HAVE YOU EVER TOSSED A COIN TO DECIDE SOMETHING...
SETTLE A PROBLEM ABOUT WHICH YOU COULDN'T MAKE UP YOUR MIND ?
REMEMBER HOW EAGERLY YOU WATCHED TO SEE WHICH SIDE WON... HEADS OR TAILS ?
OF COURSE YOU WOULDN'T STAKE A LIFE ON THE FLIP OF A COIN...
BUT HOW ABOUT A MAN WHO STAKED HIS SOUL, HIS VERY ACTIONS ON THE SPINNING OF A SILVER COIN ?
BECAUSE HE WAS LIKE THAT COIN ITSELF ! HE, TOO, HAD TWO SIDES;
TWO SIDES AS DISTINCT AS NIGHT AND DAY ... AS GOOD AND EVIL !
MEET THE MOST BIZZARE CRIMINAL OF ALL TIME ...
A TWENTIETH CENTURY JEKYLL-HYDE ... IN ...
THE CRIMES OF TWO-FACE !"
A classic and iconic Batman villain who plays an important part in the popular culture Batman mythology and universe, former-District-Attorney-turned-bad Two-Face made his debut early on in the Batman's publication history, appearing in Detective Comics #66 (cover dated August 1942) - the cover of which, as was the case so often in those days, has absolutely nothing to do with the actual story (save the caption) ...

PLOT SUMMARY

Gotham City's handsome District Attorney Harvey Kent - whose physical appearance has earned him the nickname "Apollo" - is presenting the people's case against crime gang leader "Boss" Moroni in court and produces the final evidence to squarely convict the mobster: Moroni's lucky charm, a two-headed silver coin.

Moroni realizes that his race is run, and in an outburst of violence - fuelled even more by Moroni's belief that Kent is responsible for the death of his father - the gangster jumps forward and throws acid at the DA. Batman, who is also present at the court hearing, manages to deflect most of the acid, but he can't prevent one side of Kent's face being horribly scared as a result of the incident.
When Kent subsequently learns that the one plastic surgeon who might be able to help him has returned to his native Germany and is now being kept at a concentration camp by the Nazis, his pitiful situation begins to unbalance him - once admired for his good looks, he is now seen as a hideous appearance.
Kent turns completely bitter when his fiancee, a sculptor, cannot bear the sight of his face, and as fate has dealt him such a blow, he leaves it to fate to decide his future path in life. Scaring one side of Moroni's silver coin, he flips it - and decides to turn to crime as the damaged side falls face up into his hand.

Public opinion is divided as Dent, now calling himself Two-Face, commits crimes or not, depending upon the verdict of the coin. When Two-Face stages a hold-up in a cinema (where viewers thrill to the adventures of Superman) Batman and Robin finally catch up with him. However, Two-Face makes good use of the ensuing confusion and manages to escape home - only to be confronted by Batman, who tries to convince him to give himself up and promises to put in a good word for him.

For Kent, the coin decides, but this time it lands and stands on its edge. Batman assume sthat Two-Face will have to toss the coin once more, but kent tells him that he only takes one chance ever, and that now only fate can decide what will happen to his life...


Told in a mere six panels - the reasoning for a life of crime and the modus operandi of Two-Face
REVIEW & ANALYSIS
Being a story as much as a dedicated origin feature, "The Crimes of Two-Face" is an example of how a well conceived and tightly paced Golden Age comic book story remains readable to this day - and still works. Highly condensed, for sure, by early 21st century comic book industry standards, Bill Finger's account of how Two-Face came to be and why he ticks the way he does, provides everything which is necessary and leaves out all which is not.

Readers were reminded that there was a war going on - although Batman's role in this era was primarily to appear in ads promoting war bonds

What would most certainly use up an entire arc of three or even four entire issues of comic book space today is made to fit a mere 13 pages in 1942, and the core elements of Two-Face's motivation and inner psychology are crisply told in no more than six panels. Turning necessity into virtue, Detective Comics #66 thus provides readers with a new villain and his origin which is straight to the point and sticks - you only needed to read this one comic book to know everything which is essential about Two-Face.

The characters and events are breathtakingly paced, but Finger managed to avoid any impression of things being rushed. There are, naturally, some of the oddities which Golden Age comic books are so (in)famous for, but they do not distract from the overall picture and don't throw post-1960s readers off track, merely providing some ripples in the otherwise clear waters as the non-fuss and to-the-point story moves along.

One such element is the introduction as plot element of the war which was raging at the time of publication, serving as an explanation for Harvey Kent not being able to contact the one specialist surgeon who could help him. Not because he has been killed in an accident, but because he is held prisoner at a Nazi concentration camp in Germany. The Darknight Detective's remark to this is strong on a verbal level, but it reminds today's readers above all of Batman's generally passive role in comparison to other superheroes who fought Nazis all over the place in their titles.
Batman's Gotham City, however, was devoid of any Nazi or axis activities, making him a strikingly unpolitical 1940s comic book superhero in comparison to e.g. Timely's Captain America. In said Gotham City, Golden Age villains had a tendency of either disappearing for good after one stint against the Batman, or they would be back at least once fairly quickly after their debut. Two-Face fell into the latter category, making his next appearance in Detective Comics #68 (October 1942).
CREATION, EVOLUTION & APPEARANCES OF THE CHARACTER
"OF ALL THE INMATES IN ARKHAM ASYLUM HE IS PERHAPS THE STRANGEST... AND MOST INCORRIGIBLE.
IN THE HALF-LIGHT OF HIS CELL, HE SITS MOODILY FLIPPING A COIN... OVER AND OVER...
AS HE HAS FOR MONTHS, AS HE HAS FOR YEARS."
(from the splash page of Batman #346, April 1982)
Driven mad by the duality of good and bad luck, right and wrong, good and evil, Two-Face obsessively makes all important decisions by flipping a two-headed coin, one side of which is scarred or scratched over with an X. In earlier appearances, the crimes of Two-Face followed a pattern based on the number two; since the 1970s, Two-Face has gone from being a gimmicked criminal to becoming a murderous psychopath, bent on destroying and killing Batman whenever the scarred side of his coin comes up.
According to Bob Kane's autobiography (Kane, 1989) Two-Face was inspired by the 1931 movie adaptation of Robert Louis Stevenson's Strange Case of Dr Jekyll and Mr Hyde starring Spencer Tracy (the reference to Robert L. Stevenson's classic novel is made explicit by showing Two-Face holding a copy of the book on the splash page). Additional input was also derived from the pulp magazine character Black Bat, whose origin story included having acid splashed in his face.

The name Harvey Kent was dropped (again according to Bob Kane's autobiography) in favour of Harvey Dent as of Batman #81 (February 1954) to avoid confusion with Superman's alter ego Clark Kent.

The Harvey Kent Two-Face appeared in Detective Comics #66, #68 (1942) and Detective Comics #80 (1943), when both his face and his mental sanity were restored. With no retcon set in place, other characters assumed the role such as Wilkins, Dent's butler, in 1948/49 by using makeup to suggest that the reformed Dent has suffered a relapse and deformed his face to appear as before (Batman #50, #52). In 1951, actor Paul Sloane became the second Two-Face when he plays Harvey Kent in a biography and is disfigured by an accident on the set (Batman #68). Sloane's mind snaps and he thinks he is Kent; this incarnation of Two-Face was used as Two-Face II of DC's Earth-Two multiverse (Superman Family #211-212, 1981), and Sloane was revived as a successor of the original Two-Face in 2003 (Detective Comics #777). The third Two-Face of the Golden Age is a small time criminal named George Blake, who like Wilkins is wearing make-up (Detective Comics #187, 1952).

Not sitting well with the more kids-friendly and campy approach the Batman books were taking in the 1960s, Two-Face was dropped from the roster of Batman villains with the exception of a single appearance in 1968 (World's Finest Comics #173).
Following his first appearance as Two-Face in Batman #81 (February 1954), Harvey Dent was brought back in August 1971 by writer Dennis O'Neil for "Half an Evil" in Batman #234, and it was this and subsequent portrayals which really shaped the character and turned him into one of Batman's arch-enemies in a series of now classic 1970s stories appearing in Batman #234 (August 1971), Brave and the Bold #106 (March-April 1973), Batman #258 (September-October 1974), Batman #260 (January-February 1975), Joker #1 (May 1975), First Issue Special #7 (October 1975), Justice League of America #125 (December 1975), Justice League of America #126 (January 1976), Joker #9 (September-October 1976), Brave and the Bold #129-130 (September-October 1976), DC Super-Stars #14/2 (May-June 1977), Teen Titans #47-48 (April-June 1977), Batman #294 (December 1977), Green Lantern Vol. 2 #117 (June 1979), and Batman #312-314 (June-August 1979).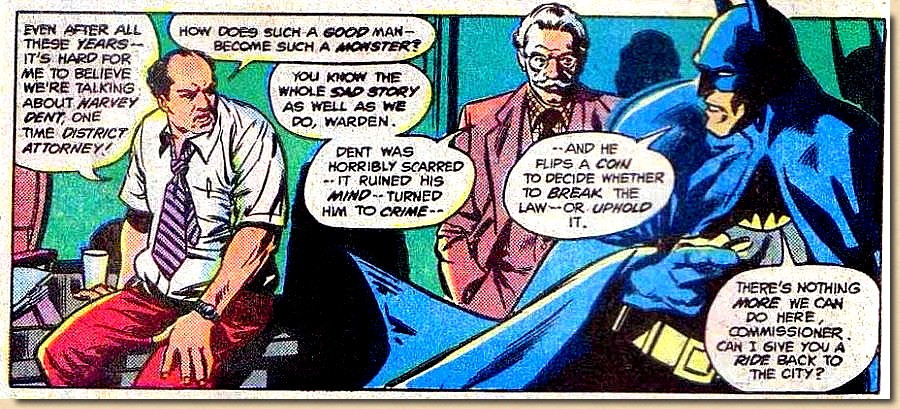 The MO of Two-Face, summed up by Gerry Conway and Don Newton in one single panel (from Batman #346, April 1982).
Following Frank Miller's revision of Batman's origin in Batman: Year One in 1986, Two-Face's history was also subject to changes in Batman Annual #14 in order to match up. Ever since, Two-Face has essentially been portrayed as having an obsession with duality and fate as the result of schizophrenia and bipolar/multiple personality disorders, as opposed to a reaction following a single traumatising event - also meaning that plastic surgery no longer presents a "cure" as the mental illness dominates the outer appearance, and not vice versa. The modern version is also established as having once been a personal friend and ally of Commissioner James Gordon and Batman.
TWO-FACE IN OTHER MEDIA

Considered to be too gruesome and violent for the 1960s Batman television series, Two-Face eventually appeared in Batman: The Animated Series (1992-1995), voiced by Richard Moll. Based on the post-Year One origin rather than the classic take from 1942, District Attorney Harvey Dent is portrayed to suffer from psychological problems since the time of his youth when he developed a second split-personality (called "Big Bad Harv") who shows himself whenever Dent loses his temper. He finally becomes completely insane after an explosion in a factory hideously scars the left half of Dent's body, and he becomes a gangster known as Two-Face.

In the 1995 movie Batman For Ever Two-Face is played by Tommy Lee Jones, and the character also features very prominently in The Dark Knight (2008), the sequel to the 2005 film Batman Begins.

Played by Aaron Eckhart, Dent is a far darker character in this movie, portrayed as a tragic hero rather than suffering from dissociated personalities. At the end of the movie, Two-Face dies whilst holding Commissioner Gordon's son as a hostage and threatening to kill him. In order to cover up Dent's criminal actions, Batman decides to take the blame for Two-Face's murders in order for Dent to be remembered as a hero...

Two-Face in Batman The Animated Series and Batman The Dark Knight
TRIVIA
Not surprisingly (given its importance for the Batman Universe) "The Crimes of Two-Face" has been reprinted several times and is an easily accessible Golden Age classic featured in 100-Page Super Spectacular #DC-20 (September 1973), Batman Archives Vol. 2 (1991), Batman: Featuring Two-Face and the Riddler (TPB, 1995), Batman Vs. Two-Face (TPB, 2008), and Batman Chronicles Vol. 7 (2009). The single highest CGC-graded original copy of Detective Comics #66 clocks in at 9.0 (VF/NM) and was sold at auction in December 2011 for $10,200.
BIBLIOGRAPHY
KANE Bob (1989) Batman and Me, Eclipse Books
BATMAN and all related elements are the property of DC Comics, Inc. TM and © DC Comics, Inc., a subsidiary of Time Warner Inc.
The illustrations presented here are copyright material. Their reproduction for the review and research purposes of this website is considered fair use as set out by the Copyright Act of 1976, 17 U.S.C. par. 107.


(c) 2012-2015

page first uploaded to the web 9 May 2015