(PART THREE)
DETECTIVE COMICS #517
(AUGUST 1982)
In 1981, industry legend Gene Colan - following in the footsteps of many of his former colleagues - left his longtime employer Marvel Comics to work for DC. His dense and atmospheric style which, characterized by a cinematographic quality in his use of fluid figure drawing and the use of shadows, was particularly well suited for the Darknight Detective. After his first ever Batman work appeared in Batman #340 (October 1981) he became one of the regular Batman artists both in his namesake title and Detective Comics.

Starting with Batman #349 (cover date July 1982), writer Gerry Conway had Gene Colan draw once again what had become a cornerstone of his success and fame from back in the days when he was pencilling Marvel's Tomb of Dracula: vampires. In a multi-part story which crossed over between the two Batman titles, Conway and Colan created a surreal and supernatural fantasy which saw both Batman and Robin touched by the mark of the vampire...
DETECTIVE COMICS #517

August 1982

"The Monster in the Mirror"

Story - Gerry Conway & Paul Kupperberg
Art - Gene Colan
Inks - Tony DeZuniga
Colours - Adrienne Roy
Lettering - Annette Kawecki
Editor - Dick Giordano
Cover - Gene Colan & Frank Giacoia
"CAN'T YOU SEE I'M NOT WHAT I WAS --
-- CAN'T YOU SEE WHAT I AM !
THAT'S RIGHT, ALFRED --
OPEN YOUR EYES AND LOOK AT ME !
LOOK AT THE MONSTER I'VE BEEN TURNED INTO !"


PLOT SUMMARY

Sneeking back into Wayne Manor under the cover of night and in his guise as Batman, Bruce Wayne is forced to acknowledge that the attack he suffered from the Monk (in Batman #350) has not only left him shocked and awed - but has quite obviously turned him into a vampiric being...
Confronted by an alarmed Alfred, Batman tells his faithful companion to stay clear, as the creature he has now been turned into forces more and more cravings and instincts onto Bruce Wayne which he may no longer be able to control any moment soon.
As Batman flees to the Batcave, a shaken Alfred opens the door of Wayne Manor to a late night caller - Father Green.

Having witnessed the fight at the Monk's villa, the clergyman informs a stunned Alfred that "there's someone in this house very much in need of my help"...
Meanwhile, across Gotham, "Boss" Thorne is going over the photographs which publisher Morton Monroe had stolen from the desk of Vicki Vale - and reaches the same conclusion which the original owner arrived at: that the Batman is in fact... Bruce Wayne.

Back at Wayne Manor, Alfred prepares tea for his late night visitor and secretly rings up Christopher Chance, the Human Target, whom he had contacted earlier, but now urging him to come as quickly as possible due to an emergency situation - to which Chance agrees. A few minutes later, Father Green relates a strange tale to an increasingly confused and worried Alfred. It is the tale of how plantation owner Louis Dubois mistreated his workers in post civil war New Orleans, and how those who suffered under him brought about a terrible curse, turning both Dubois and his sister into vampires - now known as the Monk and Dala. Father Green concludes his narrative with the observation that the knows that the Batman has taken refuge in Wayne Manor, and that he must be helped - much to the chagrin of Alfred, who senses yet another threat to Bruce Wayne's secret identity.

As the new morning dawns, the party folk at Dala's mansion start to leave, including Vicki Vale - who once again wonders where Bruce Wayne may have gotten to. Unbeknownst to her, he is greeted by the rising sun in the guise of the Darknight Detective, watching across the roof tops of Gotham City - and determined to fight back and free himself of the terrible curse inflicted upon him by the Monk.

To be continued - in Batman #351...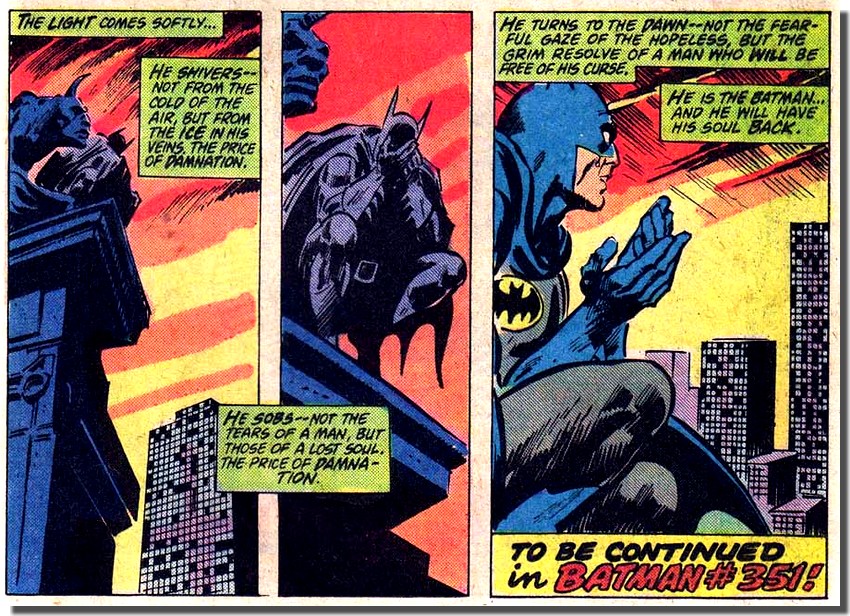 REVIEW & ANALYSIS
Readers who only followed Detective Comics but not Batman got their first taste of the vampire story as it finally branched into Detective Comics after the first two parts to this arc had featured in Batman only (#349 and #350) - and what a bitter taste this was indeed. And for readers who followed both titles, Detective Comics #517 provided the confirmation of what had to expected, if not feared, from the events depicted in Batman #350 - that the Darknight Detective had indeed been turned into a vampire by the Monk (the term used by Father Green throughout the entire story is vampiri, which is somewhat marked and conveys a slight old world atmosphere; however, it is actually a Serbian plural form and thus well researched by Conway, as it harks back at one of the generally assumed origins of the word).
To all intents and purposes, Detective Comics #517 was a game changer for the semi-monthly crossover between Detective Comics and Batman as it represents the first issue which truly required readers to have read the previous issue of Batman - for otherwise, the story really made very little sense at all and would require a lot of guesswork in order to fill in multiple blanks which would arise if readers were unaware of previous developments regarding Dala and the Monk.
| | | |
| --- | --- | --- |
| Taking this editorial direction was not without risk for DC, for after all readers who only read Detective Comics might just as well give up on the title if it increasingly required purchase of a second, different comic book rather than doing what DC wanted them to, namely buy that additional second title. There are basically two indicators available to attempt to answer the question whether or not taking this risk paid off for DC: the letters pages and the sales figures. The first would hint at the answer being yes, as most readers writing in were very enthusiastic about the concept (some even suggesting to include Brave and the Bold, Batman's stand-alone team-up title), although there were some voices who clearly showed that the crossovers also generated a certain amount of confusion and frustration. This positive overall picture is, however, not upheld by the circulation figures for Detective Comics for 1982 - which went down from 89,710 (in 1981) to 85,049. | | |
So maybe linking up Detective Comics and Batman back to back through crossovers would not be as commercially successful in 1982 as DC would have hoped for, but from a content point of view, it worked extremely well - even as Gerry Conway tackled a plot device which presented all sorts of pitfalls, i.e. having Batman face a supernatural villain. Working the storyline and the characters in a well paced manner, without a rush and one step at a time, Conway now went right down to the end of the line - by having Batman afflicted by the Monk and turned into a vampiric being himself.

It was a highly radical step to take - and possibly the most dramatic plot development imaginable as Batman (who was essentially born out of Bruce Wayne's willpower and self-determination) was slowly losing his grip... on himself, his actions - everything. Could he find a way to overcome this terrible situation he now found himself in, and fight back and - even become normal again?

It could have gone terribly wrong and just looked plain silly, but Gerry Conway had set up the entire story arc so cleverly that - almost surprisingly - it worked, and it worked really well. This was no mean achievement, as a later incarnation of a vampiric Batman in 1991 by Doug Moench and Kelley Jones was set in the so-called Elseworlds, i.e. a completely different reality. Conway, however, managed to fit the idea into an actual real world concept in a (somehow) believable and captivating way. One important element was to change the origin of The Monk (Batman's first supernatural villain ever) as well as the persona himself - into something far more specific and und understandable in comparison to his very oblique and at the same time highly generic background as "a Hungarian vampire" in Detective Comics #31 (September 1939).

It just flowed and worked well, and an immensely important part of this was the simply stunning pencilwork of Gene Colan, which brought it all to life in a truly cinematic way. Naturally, this was Colan's own and favoured territory, with shadows aplenty and a vampire or two on the loose, but Colan's artwork in Detective Comics #517 and, indeed, the entire Monk storyline, is a fine example of the very best in comic book art.
COMMENTS FROM THE BATCAVE
(from the letters page of Detective Comics #522)
"This is potent story-telling, assisted by Gene Colan's many years of drawing Dracula." (Jim DeMarco, Riverside CA)

"A downright scary multi-issue epic." (Neil Ahlquist, Minneapolis Minn.)
"I was surprised at DETECTIVE COMICS #517. the reason is that there was no introduction! There was not one note to let me know what had happened in the last issue. I wasn't sure whether this was a brand-new story or one which was a continuation. I would appreciate a note at the beginning outlining what happened in the previous issue for us latecomers." (Jeff A. Ensley, Kneeland CA)
"This whole series is picking up speed fast, so I am grateful that you are taking your time and making sure that it is done right (...) making BATMAN and DETECTIVE COMICS two of the hottest comics on the stands today!" (Kent A. Phenis, Indianapolis IN)
BATMAN and all related elements are the property of DC Comics, Inc. TM and © DC Comics, Inc., a subsidiary of Time Warner Inc.
The illustrations presented here are copyright material. Their reproduction for the review and research purposes of this website is considered fair use as set out by the Copyright Act of 1976, 17 U.S.C. par. 107.
Text is (c) 2014 A. T. Wymann
page first posted on the web 22 June 2014