The spiritus rector of Marvel himself, Stan Lee, introduces "a modern-day mirror of a macabre masterwork" on page 22 of Chamber of Darkness #2
(scanned from the original artwork in my personal collection)
It was therefore nothing too unusual for readers to encounter the spiritus rector of Marvel in the comics they were reading - on the contrary.

In fact, Stan Lee appearing as host to introduce a horror story based on a classic literary work was just the typecast thing you'd expect him to do, as this would allow him to poke some tongue-in-cheeck fun at DC (along the lines of "our distinguished competition has Cain and Able, but Marvel won't give you less than "the Man" himself") whilst at the same time using the cameo to brag about Marvel and, yes, himself. It was, after all, what gave Marvel that special feel of being so accessible to its readers.
"What I always tried to do with Marvel was to make it seem like a club, like an inner group (...) I tried to talk to the readers as if they were friends, not readers, so that not only - hopefully - did they enjoy the stories, but they enjoyed being part of the Marvel mystique if you might say, and I'm probably making it sound much more profound than it really was, but that's the way I looked at it. (...) I was on a crusade, a mission, to let the world know about the marvelous world of Marvel. So in that sense, I guess I was a little bit of a huckster." (Stan Lee in: N.N., 2003)
However, the original artwork reveals that the idea to have Stan Lee as narrator only came as a very late afterthought in the production process of Chamber of Darkness #2. The artwork was already fully lettered and inked when someone - just who exactly will probably remain lost in the shadows of comic book history - came up with the idea of having Stan Lee as host and narrator for Roy Thomas' adaptation of Edgar Allan Poe's short story The Masque of the Red Death. Originally published in 1842 it follows Prince Prospero's attempts to avoid a dangerous plague known as the "Red Death" by hiding in an abbey along with wealthy nobles he has invited. Together they stage a masquerade ball to celebrate their survival when a mysterious figure enters and makes his way through the group of people, all of whom die after confronting the stranger - who is revealed to be no human being but rather the "Red Death" himself. The plot follows many traditions of Gothic fiction and is often seen as a stark comment on the inevitability of death (summed up by the final line "And Darkness and Decay and the Red Death held illimitable dominion over all."), although Poe does not explicitly state a moral in the text (Roppolo, 1967).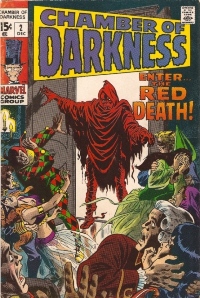 Chamber of Darkness #2
(December 1969) and its customary hosts "Digger" and Graveley (below)