Today a busy suburban borough with a population of 180,000, Sutton counted a mere 579 inhabitants in 1801.
It was the coming of the railway line from Croydon to Epsom, reaching Sutton in 1847, which provided the impetus and the basis for growth and development, and even more so when Sutton became a junction for newly opened lines to Epsom Downs (1865) and Mitcham Junction (1868).

This 1866 survey map shows Sutton just after it became a railway junction.
Sutton has a long history of station buildings. The first, a wooden structure built when the railway reached Sutton in 1847, was removed in 1865 when the Epsom Downs branch was built.

Sutton Station c1916
(Sutton Library Collection)

This second station building was built into the fork of the junction, with the entrance at street level and access to the platforms by descending stairs outside the building to the platforms.

In 1882, the station was enlarged by adding an additional building which was built over the mainline tracks and platforms (1 & 2).

In 1928, the Southern Railway completely rebuilt all of the street level premises, turning the collection of different buildings from different periods into one single station building. But what had once been a functional but nevertheless pleasing structure became an object of growing concern to local authorities and passengers alike as the years went by without any upgrading to the premises.
In September 1999, a scheme to partly rebuild Sutton station was given the go-ahead, with Sutton Council and Connex (then being the major domus) agreeing on the costs.
Officially, work was launched on 26th November 1999. Actual progress was, however, extremely slow and triggered substantial rail user discontent and repeated talks between Sutton Council and Connex, which handled the refurbishment of Sutton station as poorly as it operated the Epsom Downs branch and, indeed, the entire South London services.

When Connex lost its franchise and GoVia (South Central Trains) took over in August 2001, Railtrack had to announce "the beginning of the second stage of the Sutton refurbishment programme", as a lot of structural work (such as trickling roofs and poor guttering) had not been dealt with by Connex previously.

In sharp contrast to this, South Central completed the work by the end of summer 2002.

Comparison of Sutton station as it was just after the new building came into operation and as it stands today shows little outward differences, despite almost 80 years having passed since the two pictures were taken.

As for the refurbishment, the original ticket office had been torn out in August 2000 and replaced by a temporary portacabin-type structure outside the building. In April 2001, the new ticket office had been completed inside the premises, but the entrance area was still a building site.


Sutton Station c1928
(Sutton Library Collection)
In the main platform area, a new buffet building had been completed by that date in the V-shaped island formed by platforms 2 and 3.

August 2000


April 2001


April 2001


April 2001

Today, entrance to as well as exit from the platform area is through a modernised hall area equipped with walk-through ticket control units and information screens.


July 2006

Sutton also benefitted a lot from Southern's extensive station upgrading programme, having been one of the first stations to have QUICKticket machines installed in May 2005. Today, rail travellers have access to travel information and the possibility to acquire tickets even before entering the station building.


July 2006
(click for larger image)

Platform announcement at Sutton for Epsom Downs service
(click on loudspeaker to play)

The track layout at Sutton has not changed substantially since it became a double junction in 1868, apart from the once fairly large goods yard which was cut back after World War Two and is now reduced to one overgrown engineers siding
(click for a detailed view of platforms 3 and 4 diagram)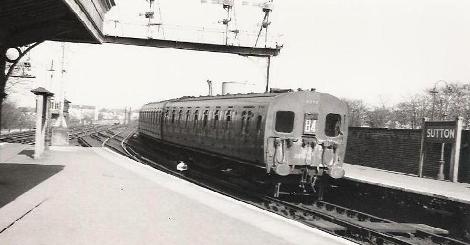 A 4SUB EMU enters platform 4 with an Epsom Downs service on 20 April 1958, with the complex track arrangement forking out to West Croydon and Mitcham Jct just visible in the background, along with Sutton signal box.
(Adrian Wymann collection)