PROTOTYPE 2016 - 2017
Roanoke Va
23 May 2017

GE C44-9W #9051 and GE C40-8W #8344 pull their train past the Virginia Museum of Transportation.
Bluefield WV
22 May 2017

NS GE SD70ACU #7248 (a former Union Pacific SD9043MAC locomotive acquired by Norfolk Southern in September 2014) and GE ES44DC #7618 are revving up and getting ready to pull out of Bluefield with a train of autoracks, passing GE ES44AC #8063 in the background.
It's a wet Sunday and NS GE ES44AC #8123, built in November 2012, is tied down at the Eastern end of Bristol Yard in the company of AAR M930 type NS caboose #555647, assigned to Bristol for yard work at least since 2007 although it does get around locally from time to time. Below is the famous Bristol sign (note heavy duty mainline rail in the foreground compared to the rails of the yard lead) and a view across the Bristol station canopy looking East towards the yard.
Dante Va
24 October 2016

There is zero activity at CSX's Dante Yard, which is filled with silence - and long lines of stored empty coal hoppers. Once an important hub for local coal operations on the Clinchfield RR, CSX as much as mothballed the entire line from Elkhorn City Ky to Kingsport Tn in 2015.

Coal traffic by rail in the US reached its peak in 2008 with a monthly average of 625,000 carloads; by 2016 this was down to 340,000 a month. The visible result on the former Clinchfield RR: empty coal hoppers were in storage wherever there was a siding.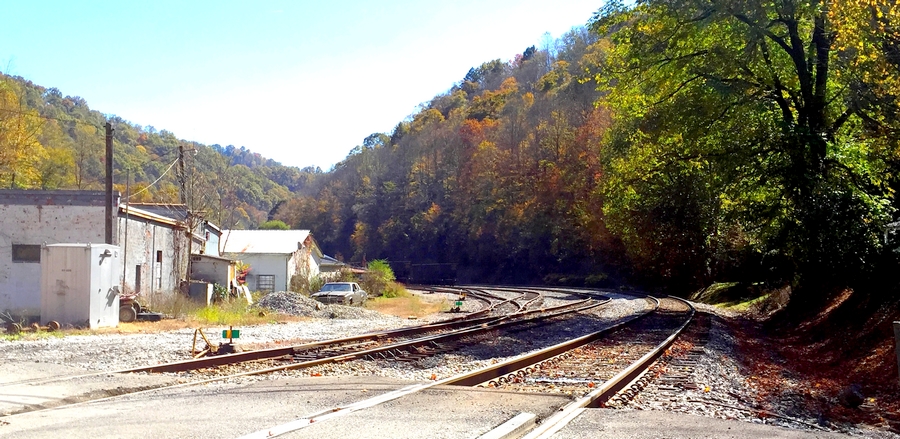 Traffic has picked up a bit since and CSX runs a few trains on the line again, but it is nowhere close to its former glory.
Roanoke Va
20 October 2016
COPYRIGHT NOTICE
All images on this page are (c) Adrian Wymann