DAREDEVIL, MAN THING & CAPTAIN AMERICA
INSIDE THE
SEPTEMBER 1975 MARVEL MULTI-MAGS

DAREDEVIL #125
MAN-THING #21
CAPTAIN AMERICA #189

When the Whitman company (a division of Western Publishing) took over the distribution of DC's packaged comics to supermarkets in 1967 and invited additional publishers to join in (cf. THOUGHT BALLON #26), Marvel secured itself a slice of this profitable market by launching its MULTI-MAGS in 1968. However, after having been around for little more than a year the packaged comic bags with Marvel vanished again in mid-1969. The main reason for this withdrawal was that Marvel Comics had been sold to a business conglomerate called Perfect Film & Chemical Corporation in July 1968 - who had also acquired Curtis Circulation & Publishing. Marvel had already changed printers in May 1969, and when Marvel's distribution contract with Independent News expired, Curtis Circulation took over - and the Whitman distribution deal expired alongside Independent's (cf. THOUGHT BALLON #43).

Marvel did not return to comicpack market until the early 1970s, and this MARVEL MULTI-MAGS from September 1975 is one of the earlier known examples of renewed life for comic books packaged in a plastic bag from Marvel. Perfect Film still owned Marvel but called itself Cadence Industries since 1973 (and what had officially been Magazine Management Company now officially became known as Marvel Comics Group). In 1975 Marvel's president Al Landau was fired after questionable business practices whilst losing $2 million, and successor Jim Galton, in tackling massive distribution problems, also saw the virtues of the sealed, non-returnable comicpack bag and its special market with a customer base in supermarkets and department store chains which comic books could hardly reach otherwise (cf. THOUGHT BALLON #43).

With a changed and updated logo in comparison to the 1968/69 look, Marvel's MULTI-MAGS were starting to appear more regularly now - selling 3 comics for 74¢ as compared to 4 for 47¢ back when they were first launched. This time around, however, nobody bothered to follow DC's best practice of structuring the packaging and then cataloguing and labelling the comicpacks accordingly. In other words: no more indication on the header such as 69-B10 (which translated into "second pack [B] for October [10] 1969") - the example shown here is simply a Marvel MULTI-MAGS featuring three titles from the September 1975 cover date run: Daredevil #125, Man-Thing #21, and Captain America #189.

Both DD and Cap would become regular and frequent features in MULTI-MAGS throughout the 1970s.
This mid-Bronze Age MARVEL MULTI-MAG also serves as an example to illustrate the fact that comic books coming from Marvel were, at face value, much less suited for this format than the superhero titles from DC. Whereas the latter publisher's comic books still featured episodic "done in one" adventures which had little to no effect on following issues throughout the 1970s, the continuity of the Marvel Universe was (literally) an entirely different story: both the Daredevil and Man-Thing comic books from this MULTI-MAGS wrap up stories which kicked off in their respective previous issue, and the Captain America book ends with a cliffhanger and a "continued next issue" blurb.

However, one needs to bear in mind also that this was a common fate of the average comic book reader in the 1970s Bronze Age, whether his or her comic books came packaged in a plastic bag or as single issues from a display or spinner rack. In those days, an uninterrupted supply of specific titles simply was not guaranteed, and one quickly became quite adept at not feeling too worried over possible gaps in storylines. And sometimes, such as in Captain America #189, you even got a recap of several preceding issues on one page. It simply was all a part of being a comic book fan in the 1970s - just as the monthly Bullpen Bulletins and in-house advertising were.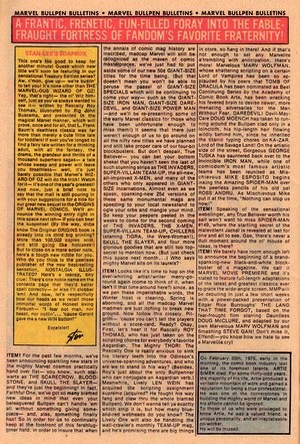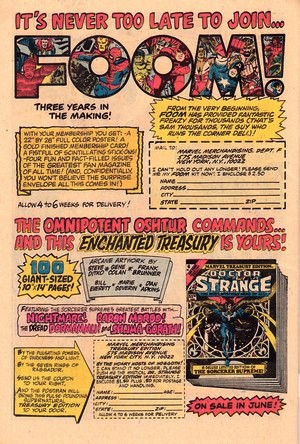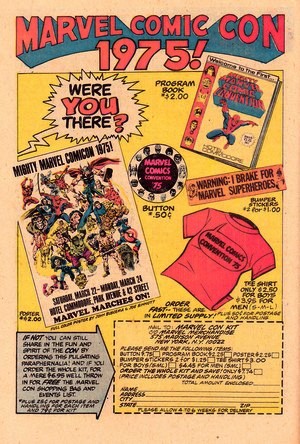 The Bullpen Bulletin ("A frantic, frenetic, fun-filled foray into the fable-fraught fortress of fandom's favorite fraternity!") was included in all Marvel's titles, this time around including announcements by Stan Lee of an upcoming Treasury Edition of the Wizard of Oz, the non-publication of some previously announced 50¢ Giant-Size titles, various new scripting and art assignments on various titles - and the passing of Artie Simek (6 January 1916 - 20 February 1975), letterer supreme.

Also included in all three comic packs in this MARVEL MULTI-MAGS was the combined FOOM / Giant-Size Doctor Strange advert, whereas only Daredevil and Man-Thing also ran the 1975 Marvel Comic-Con merchandising ad.
---
DAREDEVIL #125

September 1975
(monthly, with the exception of January, March, July and November)
On Sale: 3 June 1975

Editor - Len Wein
Cover - Gil Kane (pencils) & Klaus Janson (inks)

"Vengeance is the Copperhead" (18 pages)
Story - Marv Wolfman
Pencils - Bob Brown
Inks - Klaus Janson
Lettering - John Costanza
Colouring - Klaus Janson

Continues the confrontation from the previous issue between Daredevil and one Lawrence Chesney who dons the guise of the pulp fiction hero Copperhead as he goes on a rampage to revenge his father by killing the writer and the publisher of the Copperhead pulps and leaving the Copperhead's signatory mark: two peenies on the victim's closed eyes.
When Daredevil tracks down Copperhead, Chesney explains that his father became embittered due to the lack of royalties (he posed as the model for the Copperhead covers) and ultimately went insane and died when the pulp stories were being reprinted and recirculated. Attempting to attack Daredevil once more, Copperheadcis suddenly struck down by a bolt of lightning and killed. In a final twist of events, the Man without Fear tosses two pennies that land over Copperhead's eyes.

A slick story featuring a visually interesting villain with shades of The Shadow omnipresent (before he divests himself of his pulp costume and appears as per the cover of this issue), the only let down is the odd idea to have Copperhead speak with the hiss of a snake (i.e. ssspeak like a sssnake). The artwork by comic book industry veteran Bob Brown is good but still no comparison to Gene Colan's pencils from the previous issue.
---
MAN-THING #21

September 1975
Monthly (with the exception of January, March, July and November)
On Sale: 17 June 1975

Editor - Len Wein
Cover - Gil Kane (pencils) & Frank Giacoia (inks)

"A Lunatic on every Corner" (18 pages)
Story - Steve Gerber
Pencils - Jim Mooney
Inks - Jim Mooney
Lettering - Joseph Rosen
Colouring - Janice Cohen

Continued from last issue is the confrontation in Atlanta between the Man-Thing and Thog, a demon from the extra-dimensional world of Sominus who hatches a plot to take over the entire universe.
Nestled in a story as strange as befits a Man-Thing tale and to be concluded only in the next issue, the Scavenger makes his first appearance too (including his origin story), plus Klonus - a warrior from Katharta (an archetypal world of barbarism and sorcery) - blasts Man-Thing through the head, which causes a black substance which kept Ted Sallis' mind nullified to ooze out. As a result, he is filled with the return of his conscious mind and all the memories along with it, essentially leaving the Man-Thing paralyzed...

A story which is both entertaining and confusing at the same time, plotted by the Man-Thing's master scribe (Steve Gerber) and visualized by the muck monster's master artist (Jim Mooney).
---
CAPTAIN AMERICA #189

September 1975
(monthly)
On Sale: 10 June 1975

Editor - Len Wein
Cover - Gil Kane (pencils) & Mike Esposito (inks)

"Arena for a Fallen Hero" (18 pages)

Story - Tony Isabella
Pencils - Frank Robbins
Inks - Frank Chairamonte
Lettering - Karen mantlo (Poccock)
Colouring - Diane Buscema

Captain America must fight the Falcon to the death to free him from the Red Skull's mind control and is ultimately attacked by the Masters of Evil and blows up Radioactive Man in the "arena lab" of Jeff Cochren, the Co-director of S.H.I.E.L.D. field operations. To the onlooking SHIELD agents, however, it looks like Cap is battling thin air.
The "arena" setup is explained as a form of pyschological therapy set up by Cochren to break the Red Skull's control over Falcon. It does work in the end, but the story leading up to that point seems rather convoluted and aimed primarily at cramming in as many fight scenes as possible. Almost certainly a 1970's teenager's delight, it doesn't work the way it did back then anymore, especially as the art by Frank Robbins appears rather rough.
---
---

First posted 29 July 2014
Updated 14 March 2015

All characters, logos, and images are the property of their current copyright holders.
They are used here for non-commercial review purposes and considered fair use according to US Code Title 17, Sec. 107.
Text is © 2014-2015 A. T. Wymann