GHOSTS, WEIRD WESTERN TALES & WEIRD WORLDS -
INSIDE THE
DC COMICS 1972 A-12 SUPER PAC


Ghosts #10 - Weird Western Tales #15 -
Weird Worlds #3

Super Pac A-12 is from the December 1972 publication cycle of DC's dedicated packaging for sale in supermarkets and convenience stores. It holds two bi-monthly titles and one that was just making the switch to being published every 30 days. Ghosts was that book, and it set the theme for the contents of this Super Pac which also includes Weird Worlds (the other visible title of this pack) and Weird Western Tales sandwiched in between. Clearly then, this is a comic pack featuring "tales of the weird and supernatural", as indeed the tagline of Ghosts ran.

All three issues have a publication date in the indicia of December or December/January respectively, but as DC would in such cases commonly use the second month for cover date (making the comic appear new for an additional month) the two bi-montly titles in this December Super Pac are actually labelled JAN.

The comic books found in this Super Pac hold a number of pleasant surprises for the knowledgeable comic book enthusiast, as well as providing a broad take on the supernatural genre, from straightforward ghost stories to mystery western tales and finally out of this world fantasy fiction.

My copy of this Super Pac is another example of how the rather unsophisticated plastic bag packaging (which so many collectors seem to dread) was perfectly able to keep its contents in - to some probably surprisingly - great shape. Even though this particular 1972 A-12 pack's plastic bag showed very noticeable signs of storage wear and yellowing, it had obviously been stored in ways which did not subject it to either extended direct sunlight nor excessive warmth.

As a result, the individual comic books all proved to be in very nice shape when the plastic bag was opened more than 40 years after had originally been packed and sealed: pristine covers with perfect gloss and shine on comic books which were perfectly flat and tight (without any spine stress), with sharp edges and no creases. The pages have gone to off-white over the years with some slight browning in places, but they are of course perfectly clean and fresh.

This Super Pac sold for 59¢ at the time, which in terms of purchasing power is the equivalent of $3,05 in 2012 (www.measuringworth.com). If DC would still be running the scheme using the same parameters (3 comic books sold at a discount of 2% on the cover price), a Super Pac would today retail at $8,80.
---
Ghosts #10

December1972

Editor - Murray Boltinoff
Cover - NickCardy

"A Specter Stalks Saigon" (6 pages)
Story - Leo Dorfmann
Art - Gerry Talaoc
One in a number of DC's horror anthology titles, Ghosts #10 features stories about a ghostly soldier who tries to warn soldiers to change their plans during the Vietnam War, a man who is haunted by the ghost of the paid murdered who slew his brother and then was hanged for the crime, a sailor who sees a ghastly face and is convinced his boat is doomed, and a house on Berkely Square which is haunted by some evil force.
Whilst the artwork for this comic book came predominantly from DC's Philippine talent pool, the stories were all penned by Leo Dorfman (1914 – 1974), who had started working for DC in the 1950s as a writer and quickly became a prolific plotter. Amongst his single-handed creations was Ghosts, as Paul Levitz recalls:
"While it wasn't a fan favorite (then or in retrospect), it was a disproportionately good seller. When Leo passed, editor Murray Boltinoff never found a satisfactory replacement, and a lot of the title's distinctive character faded." (Paul Levitz in Evanier, 2009)
"During the same period, Leo was writing a lot of scripts for the ghost comics that Gold Key was publishing (...) One of the editors there told me, "Leo writes stories and then he decides whether he's going to sell them to DC [for Ghosts] or to us. He tells us that if they come out good, they go to us and if they don't, they go to DC. I assume he tells DC the opposite." (Paul Levitz in Evanier, 2009)
The stories are rather standard fare, but unlike most horror anthology titles of the 1970s, they are at least not reprints from some 1950s title but original creations, all laid out to the theme of turning sceptical readers into admitting that yes, ghosts do exist... However, in this respect the two one page text features (the first of which is adorned by illustrations) in Ghosts #10 do a far better job, recounting some historical facts of biographies linked to the supernatural. Even if not all the stories live up to the plot suspense they build to start with, it is all in all an entertaining read, also providing some insight into Comics Code restricted horror stories of the Bronze Age.
---
Weird Western Tales #15

December/January 1972/73

Editor - Joe Orlando
Cover - Neal Adams

"Never Kill a Demon !" (12 pages)
Story - Cary Bates
Pencils & Inks - Neal Adams

"Hang Him High" (5 pages)
Story - Jack Olek
Pencils - Gil Kane
Lettering - John Costanza

"The Ballad of Doc Satan" (5 pages)
Story - Marv Wolfman
Pencils & Inks - Bill Draut
Weird Western Tales started out as All-Star Western in 1970. A straightforward western title to start with, DC adapted it to conform to the growing demand and success for horror or supernatural themed comic books. As of issue #12 it was thus rebranded as Weird Western Tales - one of a good many DC comic books which would eventually feature Weird in their title. Editor Joe Orlando was looking for a catchy main feature and found that the ghostly El Diablo (starring on the cover of this issue) didn't quite do the trick, but that the gritty Jonah Hex made sales roar and would therefore be given the title's lead for good as of issue #17. He is, however, absent from this issue.

This is, however, more than compensated for by some of the creative talent assembled for the production of Weird Western Tales #15, which showcases early work for DC by Neal Adams (active for DC since 1967) and Marv Wolfman (first professional work for DC in 1968) as well as the pencils of veteran Gil Kane (whose first work for DC went back to 1944). In this sense, Weird Western Tales #15 is a bit of a hidden gem in this Super Pac.

Even without Jonah Hex, the stories are quite thrilling - mixing standard wild west lore with a shot of the supernatural works out well and provides for entertaining reading. DC really did invest quite some effort into their non-superhero material, and Weird Western Tales #15 is a good example of the resulting high level quality stories and artwork. Or, as editor Joe Orlando put it on the letters page of Weird Western Tales #15:
"It's really a pleasure to see hard work rewarded. It would have been much easier to put out half a dozen "Kid" titled Western heroes - all fighting in improbable situations - and all exactly alike. Time has been taken to develop all the characters that have appeared in WWT [Weird Western Tales] - beginning with Outlaw and El Diablo and through Billy the Kid and Jonah Hex. It has been our thought that quality Western stories can exist (...) We will continue to take the time to develop our characters rather than merely xerox them."
The reference to the "Kid titled Western heroes" was, of course, directed at competitor Marvel... Weird Western Tales would eventually run for 8 years and clock up a total of 59 issues, ending with Weird Western Tales #70 in August 1980.
---
Weird Worlds #3

December/January 1972/73
Editor - Dennis O'Neil
Cover - Joe Orlando

"Into the Valley of Death" (12 pages)

Story - Marv Wolfman
Pencils & Inks - Murphy Anderson

"Temple of the Damned !" (11,5 pages)

Story - Len Wein
Pencils - Alan Lee Weiss

Weird Worlds was a science fiction & fantasy anthology title which only ran for 10 issues between 1972 and 1974 and featured series by Edgar Rice Burroughs to which DC had obtained the licensing rights: John Carter Warlord of Mars (the first feature in this issue) and Pellucidar (the second story), which had moved to this title from Tarzan and Korak, Son of Tarzan respectively.
Both stories are adaptations from novels by Burroughs - The Gods of Mars (John Carter) and At the Earth's Core (Pellucidar) - which makes this comic book differ from most found in 1970s threepack bags: the features are not self contained but rather parts of ongoing storylines. This actually made Weird Worlds a somewhat awkward comic book to have in a Superpac as it was not at all clear that there would be another Superpac containing the next issue of the title and thus enabling buyers to read on with the stories. Chances were: you were stuck with this segment of a bigger tale.

On the other hand it was a fact of life - not only avid comic book readers relying on Superpacs and similar fare to supply them with their favourite reading material would sometimes not be able to get following consecutive issues of a title. In the 1970s, even spinner racks at well stocked newsagent outlets came with no guarantee of an unbroken chain of supply. So you soon learned to deal with that and not be bothered too much by dangling storylines. In the case of Weird Worlds #3 the writing by Wolfman and Wein is so slick that even just getting a slice of the overall story is fun reading.

The series' title was partially inspired by the success of Weird War Tales and Weird Western Tales, but didn't really work in this specific case - the title sold poorly in spite of prominent references to Tarzan and Edgar Rice Burroughs, and the end came swiftly after only ten issues in October 1974.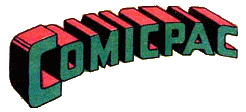 ---
BIBLIOGRAPHY
EVANIER Mark (2009) "More on Leo Dorfman", published online in News From Me