The formula employed for Marvel Firsts The 1960s is therefore aimed at collecting the first issue of every new title that Marvel launched in the 1960s, as opposed to collecting first appearances of characters, although there are a few fuzzy exceptions such as historically important tryout shots (e.g. Spider-Man in Amazing Fantasy #15). Marvel's logic for that specific example is that it's where Spidey's ongoing solo stories kicked off - and we won't argue with that. Other criteria for selecting the material (according to Marvel) were that the series has to be set in the Marvel Universe, that it had to star a character who had never had an ongoing series before, and that any one-shot story needed to be relatively close to the debut of its connected ongoing series.

The journey thus takes readers all through the 1960s from Rawhide Kid #17 (August 1960) right up to Silver Surfer #1 (August 1968), but as even a book of almost 500 pages has its limitations for the first decade of the ever expanding Marvle Universe, a selective choice had to be made, ultimately creating inevitable gaps. However, Marvel opted for a smart remedy to this by including pages with four covers each of titles which do not feature as story reprints but nevertheless formed a part of the evolving production of Marvel Comics in the 1960s and featured noteworthy points such as the debut of a new series, the retitling of an ongoing series, or a new character's strip making its debut in an ongoing series (such as the Hulk in Tales to Astonish #70). Again, these pages are interspersed in line with the chronological order, and the book kicks off with a 4-page rundown of all the Atlas books that were published in January/February 1960.

And all that for $29.99? That's excellent value for money, and again Marvel has come up with a reprint formula that works wonders. But possibly the best thing about Marvel Firsts The 1960s is that it doesn't stop there...
SAVOURING THE SEVENTIES
The 1960's Silver Age period of Marvel Comics is fairly well covered with extensive collected reprint editions in the Marvel Omnibus and Masterworks imprints. Although the latter is by now reaching the early 1970s for some characters (most noticeably Spider-Man, FF, Avengers, Thor, Captain America and Iron Man) it will still be a while until the peak of the Bronze Age will be available in these collected formats. Marvel Essentials have, of course, filled that gap so far, although the black & white reprints are not everybody's taste and only provide mere fillers for want of a better solution for many collectors (including your reviewer). Now, finally, Marvel provides the possibility to savour the 1970s in all of their primary colour glory - with no less than three volumes of Marvel Firsts The 1970s.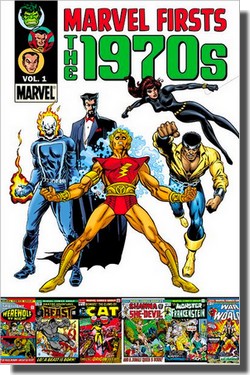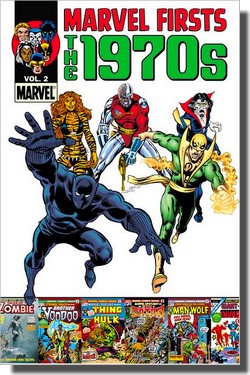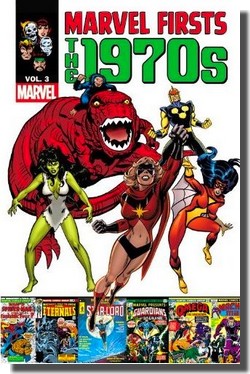 Volumes 1 and 2 were published in January and March 2012, whilst volume 3 is scheduled for release in late May 2012. The covers in many ways speak for themselves, showcasing many well-known Marvel icons from the 1970s, but the contents actually reveal a whole stack of pleasant surprises.
Volume 1 takes readers through a period of time from August 1970 (with Black Widow and the Inhumans in Amazing Adventures #1) up until January 1973 (Monster of Frankenstein #1) and features appearances by the likes of Beast, Killraven, Man-Thing, Red Wolf, Werewolf by Night, Ghost Rider, the Defenders, Warlock, Dracula, Luke Cage, Combat Kelly & the Deadly Dozen, Outlaw Kid, the Gunhawks, the Cat and Shanna the She-Devil.

In other words: readers not only get the big shots from the early 1970s here, but also a number of interesting secondary characters. Apart from dedicated titles this collection also features many examples from Marvel's anthology and tryout titles such as Savage Tales, Marvel Spotlight, Marvel Feature and Marvel Premiere.
Volume 2 picks up in July 1973 with Tales of the Zombie #1 and brings the story right up to May 1975 with Giant-Size X-Men #1. En route, readers encounter Morbius the Living Vampire (from Vampire Tales #1), Satana (Vampire Tales #2), the Living Mummy (Supernatural Thrillers #5), Brother Voodoo (Strange Tales #169), the Golem (Strange Tales #174), the Thing (Marvel Feature #11), Son of Satan (Marvel Spotlight #12), It! (Astonishing Tales #21), Deathlok (Astonishing Tales #25), Sons of the Tiger (Deadly Hands of Kung Fu #1), Iron Fist (Marvel Premiere #15), Man-Thing (Creatures on the Loose #30), Gabriel Devil Hunter (Haunt of Horror #2), John Kowalski (War is Hell #9), Tigra (Monsters Unleashed #10), Howard the Duck (Giant-Size Man-Thing #4), and the Invaders (Giant-Size Invaders #1).

The 1973-1975 was an especially interesting period at Marvel as this list instantly shows, and the work collected in Volume 2 of Marvel Firsts The 1970s is bound to hold some real discoveries for most readers. The importance of horror and Marvel's very own approach in creating "superheroes from the crypt" comes across nicely, as does the period's martial arts exploitation, although sadly enough the most important character from this genre part of the Marvel Universe - Shang Chi - does not feature. Originally introduced as the son of Fu Manchu, Marvel has since lost the rights to Sax Rohmer's creation, rendering a reprint of Special Marvel Edition #15 (December 1973) impossible.

Volume 3 will complete the trip through the 1970s by featuring material from August 1975 (Skull ther Slayer #1) right up to February 1980 (Savage She-Hulk #1 - which by the way and according to the Marvel Bullpen Bulletin of the time was Stan Lee's first new comic book creation since 1972). In between, there's the Champions, Black Goliath, Omega the Unknown, the Eternals, Nova, Ms Marvel, Devil Dinosaur and Machine Man alongside titles such as Marvel Preview and What If?
All in all, Marvel Firsts The 1970s is another collected edition winner from Marvel. For those unfamiliar with the 1970s these three volumes will provide an (almost) one-stop opportunity to get a broad idea of what the 1970s Marvel Bronze Age was like, and for those who experienced parts of this period (or even all of it) themselves as comic book readers it will be a most pleasant stroll down memory lane, sugarcoated with numerous discoveries along the way. Reading the material in consecutive order also provides a fascinating insight into the varied new developments at the House of Ideas as the 1970s progressed. This also in some way accentuates the fact that whilst these comic books were in many ways still essentially done-in-ones (i.e. a story contained within one issue) they nevertheless always left you dangling somewhere in one form or another of a cliffhanger - and just as you do not get to read the next issue within these collected editions, that was also often true in the 1970s when an uninterrupted supply of titles to wherever you bought them from was never guaranteed. As such, Marvel Firsts The 1970s is a true time capsule.

Some may lament the fact that these collected editions are published in paperback version only, but this not only keeps down the price (ensuring that more readers will pick them up) but is also in tone with the contents - the paperback format is at least slightly reminiscent of the original "floppy" format, although thankfully readers are spared the sometimes truly dismal period quality of paper and consequently printing.

Speaking of which - the visual rendition is another strong point in terms of Marvel's editorial treatment of Marvel Firsts.
TRUE COLOURS SHINING
For a few years now, Marvel (as well as DC, although to a far lesser degree) has embellished reprints of vintage material by having them recoloured, and whilst these computer techniques can add a surprisingly "modern" look to the artwork of period comic book stories, it essentially turns them into something new and different as the seemingly unlimited possibilities of modern colouring are in stark contrast to the very severe restrictions imposed by the primary colour printing of the 1960s and 1970s.

Thankfully, Marvel has refrained from this form of "upgrading" and left the colouring more or less true to its original appearance - better paper and thus printing simply means that the colours are more vibrant and saturated than the more often than not "shady" printing result of the original 1970s comic books.

Just how much of a difference this can make can be illustrated here with example panels from Brother Voodoo's first appearance in Strange Tales #169. Collected in Volume 2 of Marvel Firsts The 1970s, this material was previously reprinted and published by Marvel in a recoloured version in 2009 for the Origin of Jericho Drumm one-shot to coincide with the launch of the Doctor Voodoo - Avenger of the Supernatural title.

The top panel shows just what modern computer colouring can do, and whilst Gene Colan's artwork depicting Jericho Drumm's arrival at the airport looks completely up to date in such a form, it is certainly not the way the material was originally viewed at the time of its original publication.




Quintessentially a matter of taste, a collection such as Marvel Firsts The 1970s does nevertheless command some editorial caution in terms of boosting the material's appearance, and Marvel has taken a very sensible approach in order to create an overall impression of authenticity.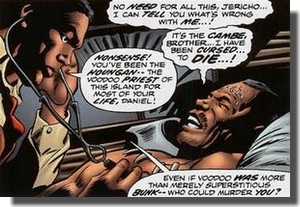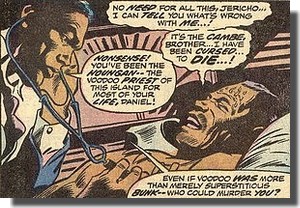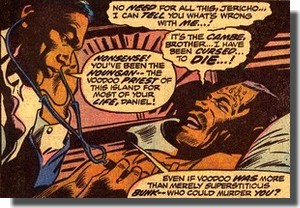 Now of course anyone with a certain depth of knowledge of comic book history will know that the colouring in comic books was always subject to a certain degree of volatility.

This example panel from Avengers #1 (with the top image showing the original colouring and the bottom depicting the colours used for the Marvel Masterworks version) illustrates this nicely and at the same time shows just what an influence the colouring does have on the final overall appearance.

Bearing that in mind, a few introductory notes on the approach to comic book colouring and the technology employed in the 1970s would have been quite nice and could have looked something like this...