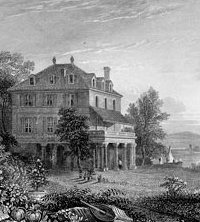 The Villa Diodati, situated on the North-West shore of Lake Geneva, as depicted in Finden's Landscape & Portrait Illustrations to the Life and Works of Lord Byron, vol. 2 (John Murray, London, 1832)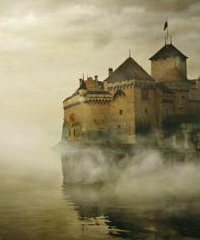 Mary Shelley did not visit Chillon Castle (situated on the Eastern shore of Lake Geneva) herself, but the chateau displays much of the eerie atmosphere which she portrayed in Frankenstein
"It proved a wet, ungenial summer, and incessant rain often confined us for days to the house. Some volumes of ghost stories, translated from the German into French, fell into our hands." (Shelley, 1831)
Byron then challenged Shelley, Mary Wollstonecraft and his personal physician John Polidori with a contest to pass the time:
"'We will each write a ghost story' said Lord Byron; and his proposition was acceded to (...) I busied myself to think of a story, a story to rival those which had excited us to this task (...) Many and long were the conversations between Lord Byron and Shelley, to which I was a devout but nearly silent listener. During one of these, various philosophical doctrines were discussed, and among others the nature of the principle of life, and whether there was any probability of its ever being discovered and communicated (...) perhaps a corpse would be re-animated (...) perhaps the component parts of a creature might be manufactured, brought together, and endued with vital warmth. Night waned upon this talk, and even the witching hour had gone by, before we retired to rest. When I placed my head on my pillow, I did not sleep, nor could I be said to think. My imagination, unbidden, possessed and guided me, gifting the successive images that arose in my mind with a vividness far beyond the usual bounds of reverie. I saw - with shut eyes, but acute mental vision - the pale student of unhallowed arts kneeling beside the thing he had put together. I saw the hideous phantasm of a man stretched out, and then, on the working of some powerful engine, show signs of life, and stir with an uneasy, half vital motion (...) The idea so possessed my mind, that a thrill of fear ran through me." (Shelley, 1831)
This wake dream, according to Mary Shelley's own description, planted the seeds for what would become one of the great classics of romantic horror literature:
"Swift as light and as cheering was the idea that broke in upon me. "I have found it! What terrified me will terrify others; and I need only describe the spectre which had haunted my midnight pillow." On the morrow I announced that I had thought of a story. I began that day with the words, "It was on a dreary night of November", making only a transcript of the grim terrors of my waking dream. At first I thought but of a few pages of a short tale; but Shelley urged me to develop the idea at greater length." (Shelley, 1831)
"It was a dreary night of November" eventually became the opening line of chapter four of the final work which she entitled Frankenstein, or The Modern Prometheus.