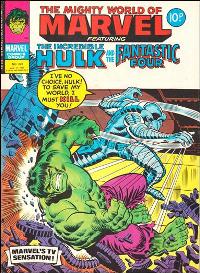 The end of an era: Mighty World of Marvel #329 -
(17 January 1979)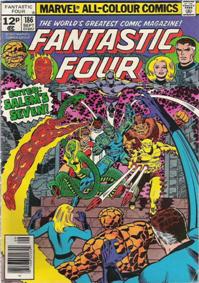 Market share threat: pence priced UK import (Fantastic Four #186, September 1977)
Various descriptions of what Skinn did and why are scattered over the world wide web, but they are all characterized by a high degree of repetitive statements and an invariably high weakness with regard to reliable source indication - although Skinn's own website now has more background information and Kirby's From Cents to Pence (to be published) will provide further improvement. What is clear though is that the new editor was hired by Stan Lee for one purpose, and that was to turn around Marvel UK and make it profitable again.

Leaving aside possible details leading up to decisions which Skinn made in this process, the resulting changes which arrived on the newsagent stands really speak for themselves. It is obvious that one of the main conclusions arrived at was that after a couple of years of simple reprints of US material for the UK market, the titles put out by Marvel UK had lost favour with a growing share of the potential readership. This was further aggravated by the fact that UK priced copies of the original colour Marvel comic books were available throughout Britain by that time, although the distribution of certain titles was curbed at times when the character appeared as a UK reprint. This market protection move did not win Skinn any favours amongst the US import fans, and caused a flare of outrage in fanzines when Uncanny X-Men was taken off the import schedules because they regularly appeared in Rampage (Kirby, 2011).

The downgrading of Mighty World of Marvel to a simple Marvel Comic was accompanied by a downgrade in the quality of paper used for the hitherto glossy covers. The resulting new look was a much closer resemblance to the outward appearance of "traditional" British comic books, indicating that Skinn had arrived at the conclusion that potential buyers shied away from Marvel UK's weeklies because they looked unfamiliar. The same transformation process was simultaneously applied to Super Spider-Man, which continued the numeration but simply became Spider-Man Comic and was given a more Britsih overall appearance.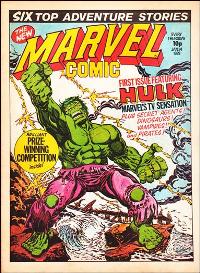 Taking over the numeration from Mighty World of Marvel: Marvel Comic #330
(24 January 1979)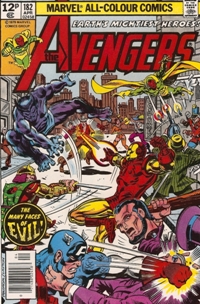 Market share threat: pence priced UK import (Avengers #182, April 1979)