THE MAN WHO CREATED INGLENOOK SIDINGS
ALAN WRIGHT
(1928 - 2005)
Alan Wright, creator of the classic British Shunting Puzzle "Inglenook Sidings", was a railway man through and through. A locomotive engineer in his professional life, he had started in his trade as an apprentice to Hawthorn Leslie on Tyneside in the mid 1940s. Going on to Robert Stephenson & Co at Darlington, Alan Wright joined the Vulcan Foundry in Newton-le-Willows in 1964 where, at his drawing board, he was involved in the designs of the BR Class 20s, 37s, 40s, 50s and the mighty Deltics. Even then, he was still very proud of the Hawthorn and Stephenson 0-4-0ST and 0-6-0ST steam shunters still at work in and around the UK, which he had helped to build.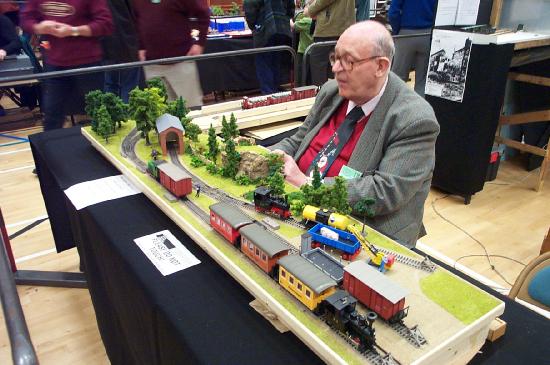 Alan Wright (picture (c) Chris MacKenzie, Virtual Narrow Gauge Exhibition)
As a railway modeller, Alan Wright built his first small railway, the Wright Lines, in the early 1950s, and it was on this small layout (consisiting of a "dented" oval and two sidings) that the principle of a five wagon train on the main line and three in a set of two sidings was developed - the "Inglenook formula" which lead to Alan Wright's original "Inglenook Sidings" shunting layout in 1978. Perhaps not surprisingly for a railway man, the inspiration for this basic scheme came from an actual location, Kilham Sidings, on the Alnwick-Cornhill branch (Coldstream branch) of the North Eastern Railway NER.

Alan Wright passed away in January 2005 at the age of 77 following a long illness.
Back to


Page created: 24/JAN/2005
Last revised: 13/MAR/2016