PROTOTYPE
Here are some sights from the real thing which have an inspirational impact on my Z Scale modelling.
Birmingham Al
23 October 2018

Birmingham Alabama is a city of many railroads, and the aptly named Railroad Park provides a great vantage point for trainwatching. In this case, a Norfolk Southern freight pulls out of downtown behind CSX GE AC44CW #49 and two Norfolk Southern units, GE 44-9W #9486 and EMD SD70 #2547.
---
---
Landgraff WV
19 October 2018

GE ES40DC #7525 and GE C44-9W #9611 are travelling between Keystone and Welch as they pull a train of empty coal hoppers over the "Pokey", Norfolk Southern's Pocahontas District, back to a coal mine where they will be loaded and then taken to tidewater again.
---
Landgraff WV
18 October 2018

Norfolk Southern Conrail Heritage locomotive GE ES44AC #8098 brings up the rear of a trio of helper units on a train bound for Bluefield, meaning that on its next trip North the "Big Blue" will be leading. NS EMD SD9043MAC #7231 (a former Union Pacific unit purchased in 2014) and EMD SD70ACe #1009 are also part of the helper consist on this train.
---
Landgraff WV
18 October 2018

Former CSX GE C40-8W #7892, now leaser locomotive GECX 7892, is heading Norfolk Southern GE C40-9W #9718, Progress Rail (PRLX) GE CW44-6 #5006 (former CSX GE AC60CW #5006) and PRLX (former CSX) EMD SD70ACe # 4835, taking a long string of cylindrical hoppers over the Pokey towards Bluefield.

The steep grades on the Pocahontas District are such that "pushers" are required on virtually all trains.
Labelled "one of the most challenging areas of railroading in the United States" by Trains Magazine, this part of the Norfolk Southern rail network is in fact one of the last manned helper districts in the entire US.

In this case, three NS locomotives bring up the rear of the cylindrical hoppers train: Rebuilt GE AC44C6M (former C40-9) #4076, GE ET44AC #3611 and GE ES44AC #8029.
---
Landgraff WV
18 October 2018

GE C40-9W #9310 is the head power of a three-unit lashup (followed by GE ES40DC #7696 and GE C40-9W #9163) at Landgraff WV (situated between Keystone and Welch), taking a string of Herzog high-side hoppers over the "Pokey", Norfolk Southern's Pocahontas District.
---
---
Abingdon Va
15 October 2018

A track team pulls out of Abingdon and heads East in a long procession; the consist includes various specialized maintenance of way machines, a couple of hi-rail pickups and a hi-rail tool truck.
Goose Creek, Markham Va
16 January 2018

Union Pacific SD70M #4414 heads NS GE C44-9W #9830 and NS GE C40-8W #8346 on a southbound intermodal train, running parallel to I-66 at this point on the tracks of the former Southern B-Line from Front Royal to Manassas.
Roanoke Va
23 May 2017

GE C44-9W #9051 and GE C40-8W #8344 pull their train past the Virginia Museum of Transportation.
Bluefield WV
22 May 2017

NS GE SD70ACU #7248 (a former Union Pacific SD9043MAC locomotive acquired by Norfolk Southern in September 2014) and GE ES44DC #7618 are revving up and getting ready to pull out of Bluefield with a train of autoracks, passing GE ES44AC #8063 in the background.
It's a wet Sunday and NS GE ES44AC #8123, built in November 2012, is tied down at the Eastern end of Bristol Yard in the company of AAR M930 type NS caboose #555647, assigned to Bristol for yard work at least since 2007 although it does get around locally from time to time. Below is the famous Bristol sign (note heavy duty mainline rail in the foreground compared to the rails of the yard lead) and a view across the Bristol station canopy looking East towards the yard.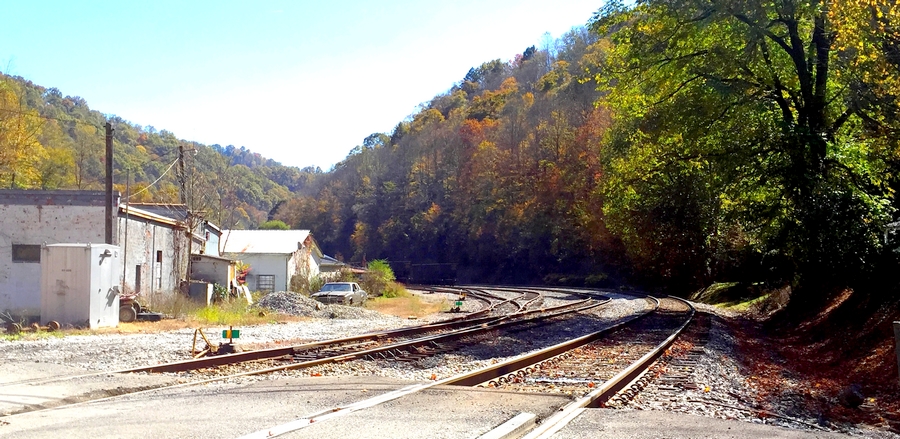 Dante Va
24 October 2016

There is zero activity at CSX's Dante Yard, which is filled with silence - and long lines of stored empty coal hoppers. Once an important hub for local coal operations on the Clinchfield RR, CSX as much as mothballed the entire line from Elkhorn City Ky to Kingsport Tn in 2015.

Coal traffic by rail in the US reached its peak in 2008 with a monthly average of 625,000 carloads; by 2016 this was down to 340,000 a month. The visible result on the former Clinchfield RR: empty coal hoppers were in storage wherever there was a siding.
Traffic has picked up a bit since and CSX runs a few trains on the line again, but it is nowhere close to its former glory.
Roanoke Va
20 October 2016
Wildwood, located in Sumter County, Florida, used to be the dividing yard for the Seaboard Airline Railroad (and its successor, the Seaboard Coastline) where southbound passenger trains were divided up into East (Miami) and West (Tampa, Fort Myers and Naples) sections and northbound trains from both coasts were joined together. Today it's all about freight, and the busy yard which runs parallel to Main Street is run by CSX which operates frequent trains day and night through Wildwood on this busy stretch of the so-called "S Line". It proved a major source of inspiration for my Z Scale model railroading.
Wildwood is a great place to be trackside, with trains passing through regularly both day and night. The town is situated less than an hour's drive from Orlando towards the Northern end of Florida's Turnpike; US 301 northwards takes you into town and right alongside the yard, where a small parking lot is conveniently located.

Just remember to stay within bounds - trains are frequent and usually pretty fast, too.

NOVEMBER 2014
CSX AC44CW #552

14 November 2014

At 5pm that same Friday afternoon, CSX AC44CW #552 and AC60CW #678 are running full speed through Wildwood at the head of a southbound consist of empty stone hoppers. Looking closely at the full size image reveals the engineer making a friendly gesture towards the trackside railfan.
MAY 2014
JULY 2013
There wasn't much happening that weekend when CSX SD-50 #8575 was laying over at Wildwood FL on Saturday, 13 July 2013. But even on such occasions there is usually an interesting selection of freight stock to be seen in the yard.
COPYRIGHT NOTICE
All images on this page are (c) Adrian Wymann